If you ask around, the general barfly consensus on the invention of the Tequila Sunrisesettles hazily into the 1970s, that decade when Glenn Frey and Don Henley strummed and sang about drinking at dawn and lost love. Or depending on the year your cultural consciousness kicked in, maybe you tie its garish grenadine hue to the audacious '80s and the eponymous flick starring Mel Gibson, Michelle Pfeiffer and Kurt Russell. Or maybe you've never given it much thought at all.
The Tequila Sunrise is one of those drinks. It had a big moment, popular in bars in the '70s and '80s, and then it sort of became relegated to listings on paper diner menus or all-inclusive vacation swim-up bars. Like the colors of a smog-fueled sunset, its origins are indeed on the murky side. Like the story that Gary Regan tells in "The Bartender's Bible," only to cast dubiousness upon this passed-on prattle in his summary: "Word has it that this drink was concocted by a befuddled bartender in San Francisco who had stayed at the bar drinking with a few friends until the boss walked in at around 9 a.m. … Yes, it sounds pretty unlikely to me, too."
All signs point to the cocktail's potential concocting in post-revolution Mexico. While Prohibition strangled American cocktail culture, those wanting to indulge in drinks and drinking games went elsewhere. One such spot was Hotel Agua Caliente, where its casino and racetrack (as well as its proximity to the California border with Mexico) made it a popular trek for Americans thirsting for more than iced tea. "The Encyclopedia of American Food & Drink" cites the conclusion drawn by Marion Gorman and Felipe P. de Alba in the 1976 out-of-print tome "The Tequila Book": The cocktail came together as a popular keep-the-party-going drink at dawn. Perhaps.
In 1939, cocktail writer Charles Baker offered a recipe cited as the Armillita Chico, named for a popular Mexican bullfighter at the time and for whom he created the following Tequila Sunrise–sounding concoction: tequila, 3 jiggers; limes, strained juice, 2; orange flower water, 2 dashes; grenadine, dash for color. Pretty close!
The Tequila Sunrise is cited by name on page 43 of "The Roving Bartender" by Bill Kelly, who dubs it a "favorite in Tijuana." The instructions: Add a few cubes of ice to a 10-ounce glass. Add in a half spoon of sugar, a 1/2 ounce of lemon juice and an ounce of tequila, and fill near to the top with seltzer. Then "stir and pour a 1/2 ounce of crème de cassis over all, allowing its own weight to carry it down." So here, you have the tequila, the citrus and the color. The seltzer, while not a bad idea, is the only sticky wicket to the recipe as we know it.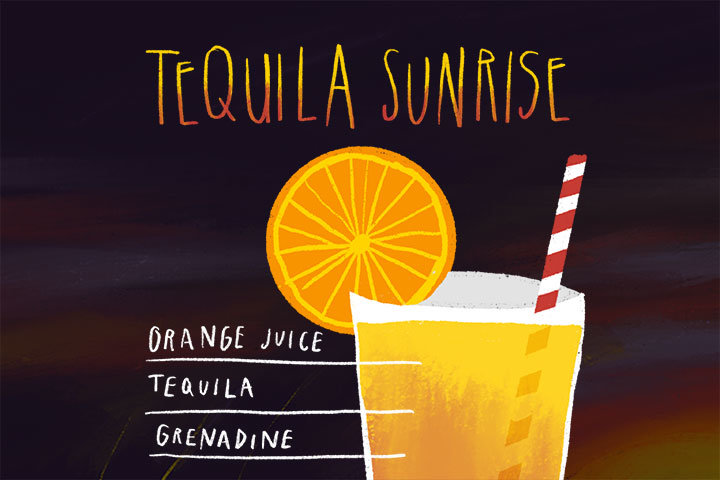 The long-winded point is that the Tequila Sunrise has history. But more than that, it has simplicity—just three ingredients: tequila, orange juice and grenadine. Born in an era not known for its cocktails, the drink still holds up.
"The Tequila Sunrise is a classic that when at its worst—i.e., cheap mixto tequila, processed juice and artificial grenadine—can be nothing more than a headache in a glass and difficult to enjoy," says Nathan Elliott, the head bartender at Portland, Ore.'s Bacchus Bar in Kimpton Hotel Vintage. "However, when this cocktail is made properly, with fresh ingredients and a high-quality tequila, it can be a true thing of wonder." To that end, Elliott keeps it on regular rotation on his menu. And he's not alone.
At The Cottonmouth Club in Houston, bartender Michael Neff recently added it to his spring 2019 menu in dedication to his dad, affectionately known as Cowboy Dan, for whom the Tequila Sunrise was a favorite.
"Cowboy Dan didn't really drink much, but when he did, he'd order a Tequila Sunrise—extra grenadine," says Neff. "I told him once that he drinks like a college girl and regretted what followed." For his take, Neff uses Tapatio tequila, fresh orange juice and his house-made cranberry grenadine.
Other versions opt for spice and bitters, perhaps as a way to boot the cocktail's sweet rep into darkness once and for all. The Alter Ego 13, Raymond DeLaney's riff at The Bookstore in Kimpton Alexis hotel in Seattle, infuses Casa Noble Crystal blanco tequila with cinnamon, subs in fresh lime and pineapple juice for the orange and adds Campari and Cynar for color and a little bit of bittering (aka, the alter ego of grenadine).
At The Ritz-Carlton in Washington, D.C., Chris Menhenhall of Quadrant uses a smoked jalapeño syrup to kick up the vegetal flavor of the tequila base, plus fresh orange juice and passion fruit syrup instead of grenadine, and dubs it El Mercado in reference to Mexico's open-air markets. And at Portland Hunt + Alpine Club in Portland, Maine, Trey Hughes' subtly spiced hibiscus syrup—made with pink peppercorns, dried hibiscus flowers, toasted clove and cinnamon—and orange flower water is an earthy, zippy alternative for grenadine in his Roll Call, floated atop tequila, pineapple and lemon juice, and agave.
"There are other variations of this drink that can be fun as well. Infusing your tequila with Madagascar vanilla bean is a fun twist that can hark back to the Orange Julius," says Elliott, who suggests other options, like substituting the grenadine with Heering cherry liqueur or replacing workaday fresh orange juice with fresh blood orange when it's in season. "No matter the direction you decide to take, this classic is a classic for a reason—as long as you stick to using fresh ingredients and quality tequila."