A rapper launching a luxury Champagne is nothing new. But a rapper creating a luxury Lambrusco? That has both the wine and music worlds doing a double-take. The Wu-Tang Clan's Raekwon is giving this sparkling red wine a flashy makeover with the launch of Licataa. Unlike its Italian Lambrusco brethren, Licataa is encased in stylish blue chrome bottles, fitting for everything from posh restaurants to nightclubs.
Raekwon wants his wine to be an affordable luxury, according to HipHopDX. "I don't believe you need to go into debt just to get a bottle of wine — I still want to reach those people who were with me from the jump — but I still want people to get an authentic experience of the high life," says Raekwon. As such, the wine retails at a very reasonably-priced $35 per bottle.
Via Wine Spectator, the wine is named after the Sicilian town of Licata, from which many Italian-Americans originally immigrated. This idea of having to journey from one's home highly resonated with Raekwon. The Wu-Tang Clan is based out of Staten Island, which is also removed from New York City.
Licataa is a demi-sec wine from the Emilia-Romagna region of central Italy. Raekwon was directly involved in its creation, spending time in Verona, Italy with sommeliers and winemakers to make his vision a reality. Tasting notes include aromatics of red berry, cherries, and lilac, with a hint of musk. On the palate, the wine is full-bodied with a smooth, velvety texture. Licataa is produced by Cantine Ceci, a generations-old Lambrusco maker.
While Licataa can be enjoyed chilled, its light tannins and crisp acidity also make it perfect for cocktails. Via Revolt.tv, Licataa was launched with two cocktail recipes, the slightly bitter Licataa Red Velvet Guillotine, and the more fruit-forward Licataa Peony (recipes below).
Licataa is a yet another force adding momentum to the revival of Lambrusco in the U.S. This fizzy red fell out of favor in the 80's due to excessive low-quality production. Now, winemakers are crafting drier, more finessed versions of Lambrusco, and Licataa is one of them.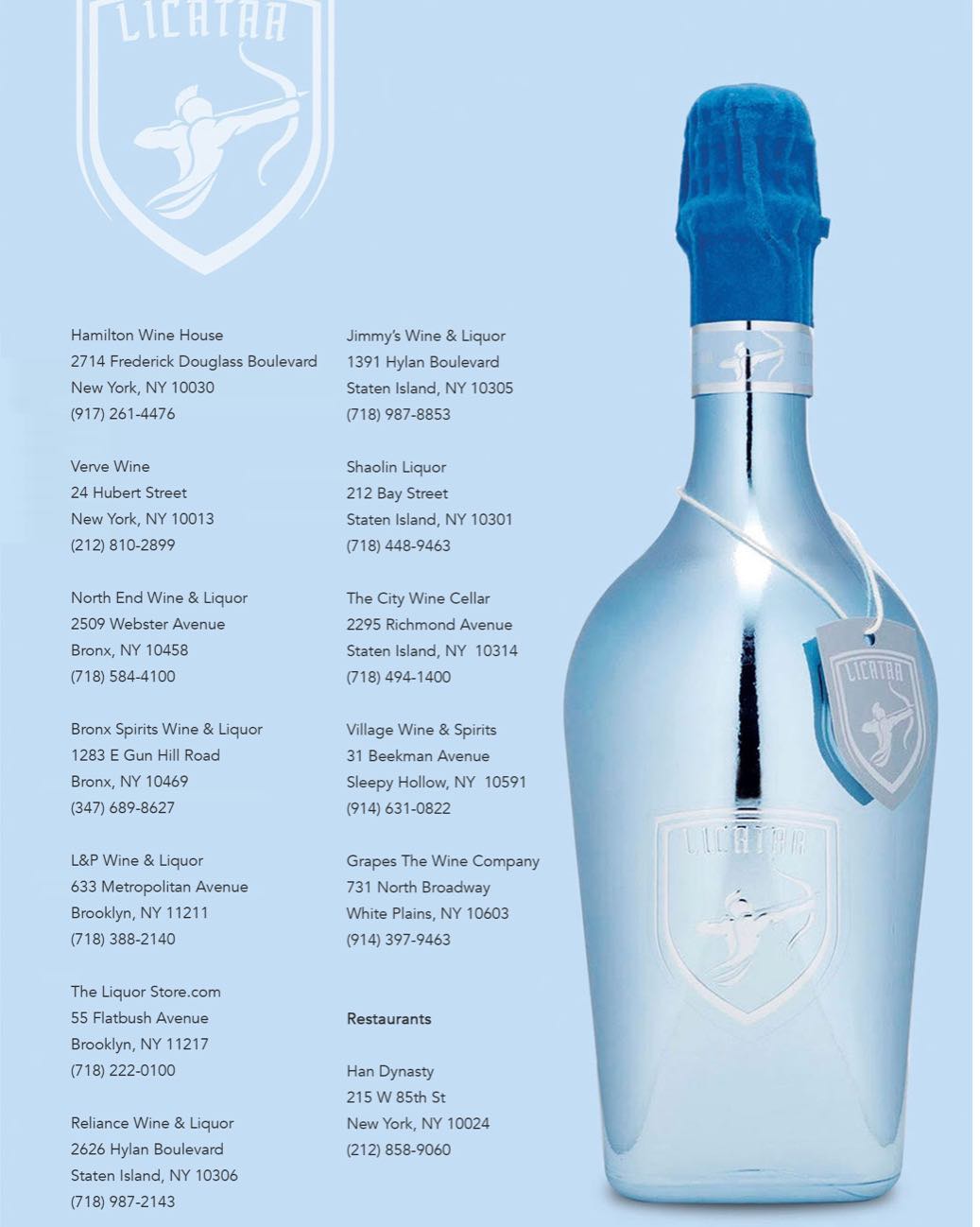 "Licataa is the new standard in luxury wine," says Raekwon. And he isn't stopping at Lambrusco. Fans can expect a full line of wine and spirits soon. To learn more, visit Licataa.com or visit one of the New York City retailers above.
---
Licataa Red Velvet Guillotine Cocktail Recipe
1.5 oz Cognac
0.75 oz Lemon Juice
0.5 oz Orange Curaçao
0.25 oz Creme de Cacao
1 Dash Angostura
1 Dash Peychaud's
Shake, strain in a Collins glass, and top with 2-3 oz Licataa. Garnish with an orange slice.
---
Licataa Peony Cocktail Recipe
1 oz Aged Rum
1 oz Fresh Pineapple Juice
0.5 oz Fresh Lime Juice
0.5 oz Simple Syrup
Shake, strain in a coupe or flute (ice is optional), and top with 2-3 oz Licataa. Garnish with a lime wheel.
---
Photo credit: Jarren Vink