Learn about the most popular grapes and wine blends in the world. From Merlot to Malbec, and everything (and everywhere!) in between, our short guides break down everything you need to know about whatever wine you're interested in.
Barbera
An everyday wine made from grapes of the same name in Italy's Piedmont region. It offers juicy fruit notes with low tannins and high acidity.
Burgundy
A wine region in eastern France that serves some of the most sought after and expensive bottles in the world. Its reds are mostly made from Pinot Noir and its whites are made from Chardonnay.
Carménère
Once is mistaken for Merlot, today the Carménère grape is most commonly grown in Chile. It produces fruit wines with a distinct green bell pepper note
Chianti
A world-famous Italian wine region located between the Tuscan provinces of Siena and Florence. Specializes in red wines made from the Sangiovese grape.
Grenache
Grenache shines in France's Rhone Valley, where it's mainly blended with Syrah and Mourvedre, and is the star in wines from the historic appellation Châteauneuf-du-Pape. The grape is also grown in Spain, where it's known as "Garnacha."
Moscato
A sweet wine made using the Muscat grape. Most commonly associated with Moscato d'Asti, a slightly sparkling wine made in Italy's Piedmont region.
Petite Sirah
Not to be confused with Syrah/Shiraz, Petite Sirah has found its home in California, where it produces full-bodied wines with high alcohol content and tannins.
Riesling
An aromatic German grape, vinified in a range of styles, from dry to sweet. Capable of aging for decades, Riesling is also commonly grown in the Finger Lakes region of New York and in Alsace, France.
Sauvignon Blanc
A refreshing, high acid white grape that's grown throughout the world. The most famous expressions come from France's Loire Valley and New Zealand's Marlborough wine region.
Blaufränkisch
One of Austria's leading varieties, Blaufränkisch is a good substitute if you're a fan of Pinot Noir, presenting a medium-bodied wine with red berry flavors and a touch of spice.
Cabernet Franc
Red grape is commonly grown in Loire Valley and in Bordeaux, where it's blended with Cabernet Sauvignon and Merlot. The grape is often recognized by distinctive bell pepper notes.
Chardonnay
Chardonnay is responsible for some of the world's most complex white wines, most notably in Burgundy where it is known as white Burgundy. Along with Pinot Noir and Pinot Meunier, it's also one of the three main grape varieties used in Champagne production.
Gamay
Gamay is the star variety in France's Beaujolais region where it produces light-bodied, fruity wines with low tannins. The best versions of the grape are grown in the region's 10 crus.
Grüner Veltliner
Austria's signature white grape. Noted for its distinct herbal notes, Grüner Veltliner is an excellent accompaniment with hard-to-pair ingredients like white asparagus.
Malbec
Originally used in Bordeaux as a blending grape, Malbec is now closely associated with Mendoza, Argentina. Produces approachable wines with juicy dark fruit, vanilla, and cocoa notes.
Pinot Grigio / Gris
Known as Pinot Grigio in Italy and Pinot Gris in France, this white grape serves refreshing, fruit-driven wines, with high acidity.
Rosé Wine
Produced by soaking red grapes on their skins for shorter durations than red wines (no longer than two or three days), rosé wines range in color from pale salmon to deep pink. A summer staple and excellent food wine.
Syrah & Shiraz
This spicy red grape is known as Syrah in France, where it shines in the Rhone Valley. In Australia, the grape is called Shiraz and is widely grown in the southern winemaking regions of the country.
Zinfandel, Both Red & White
Originally from Croatia, Zinfandel is now most-commonly grown in California, where it offers jammy, bold flavors, and high alcohol. Also vinified to a sweet rosé wine known as White Zinfandel, a category which experienced a cult following in the 1970s and 1980s.
Bordeaux
One of the most prestigious wine regions in the world, Bordeaux serves Cabernet Sauvignon and Merlot driven blends as well as sweet wines made from Sémillon, Sauvignon blanc, and Muscadelle. The area is divided into three distinct regions: the Left Bank, Right Bank, and Entre-Deux-Mers.
Barolo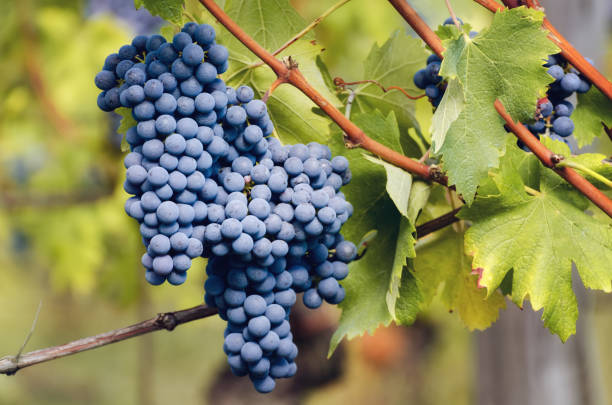 Produced using the Nebbiolo grape in northern Italy's Piedmont region, Barolo is often referred to as the King of Wine. Full-bodied, complex, and featuring both high acidity and tannins, Barolo wines are perfect for pairing with food, including meat and pasta dishes.
Cabernet Sauvignon
Grown throughout the world, Cabernet Sauvignon produces grippy, tannic red wines that offer excellent aging potential. The best examples of the grape appear in Bordeaux's Left Bank and California's Napa Valley region.
Chenin Blanc
Chenin Blanc is South Africa's leading white variety, where it's also known as Steen. The grape is also famously grown in France's Loire Valley. Because of Chenin Blanc's high acidity, it can be made into a wide range of wines from dry, semi-sweet, sweet, and sparkling.
Gewürztraminer
One of the four "noble" grapes of France's Alsace region, Gewürztraminer is a highly aromatic wine with notes of rose and lychee. It's often made in an off-dry style, making it an excellent pairing with spicy foods.
Merlot
One of the main grapes in Bordeaux reds, Merlot is often blended with Cabernet Sauvignon and Cabernet France. As a varietal wine, Merlot produces approachable, fruity reds.
Nebbiolo
The star grape in Italy's Piedmont region, Nebbiolo is used in Barolo and Barbaresco. Both are powerful red wines, capable of decades of aging.
Pinot Noir
A thin-skinned, fickle grape best-known for its use in red Burgundy wines. Revered by wine lovers for the complex, delicate, nuanced wines it offers.
Rioja
An iconic Spanish wine region, Rioja is known for producing age-worthy Tempranillo-driven red wines. White Rioja wines blend Malvasia and Viura with a handful of other white varieties.
Sparkling Wines
Made by fermenting a still wine for a second time, sparkling wines are made in a range of sweetnesses, from extra-brut to demi-sec.
Sauternes
Produced in the Graves region of Bordeaux, Sauternes is a lush dessert wine made with Sémillon, Sauvignon Blanc, and Muscadelle grapes. The presence of noble rot, a beneficial fungus, is crucial for the production of Sauternes wines.
Vino Nobile di Montepulciano
Named after the Tuscan town of Montepulciano, this red wine is predominantly made using Sangiovese grapes, which are known locally as Prugnolo. With gentle tannins and bright acidity, these wines pair wonderfully with a variety of foods.
2,355 total views, 4 views today