When college friends Johnny Caldwell and Taneka Reaves scanned the cocktail scene in their city, Charleston, S.C., a few years back, they didn't see anyone who resembled them. And so they did what innovators do: They built a community from the ground up.
"There weren't any black female voices talking about food and beverage from an educational and empowering standpoint," Caldwell says. "So we thought, let's just be what we want to see in our community."
Together, Caldwell and Reaves are the Cocktail Bandits, a lifestyle brand that provides a feminine, urban perspective on the spirits industry. Creating their company and pioneering a community gives them a chance to take their love for food, cocktails, and Charleston to a whole new level.
They are part of a growing movement of black women entrepreneurs challenging misperceptions about demographics in the drinks business. By increasing the representation of women of color in their local drinks community, and engaging with the national bar industry, Caldwell and Reaves are committed to making positive change, one cocktail at a time.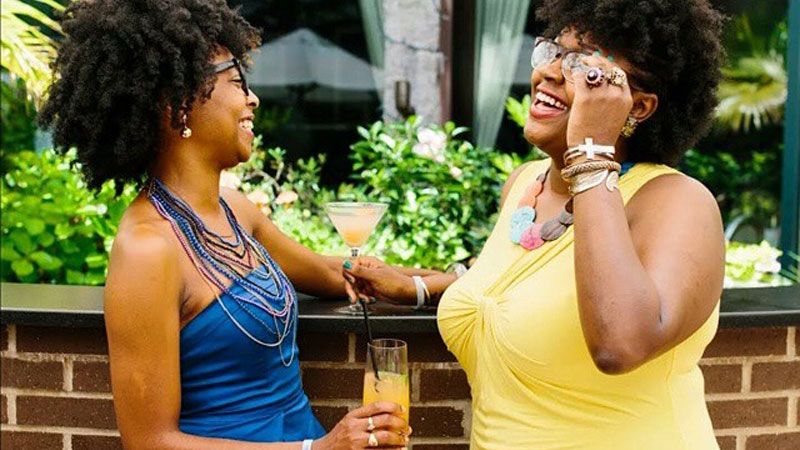 When Caldwell was in law school between 2009 and 2012, Reaves worked in different bars and restaurants in Downtown Charleston and would fix her friend delicious cocktails every time she visited. Caldwell had difficulty finding legal work after graduating from law school, so Reaves suggested they figure out how to break into the local food and beverage industry.
At the time, new bars and restaurants were opening left and right in Charleston. They wanted to contribute to their city's evolving nightlife culture, so they created Cocktail Bandits at the end of 2013, excited to share their perspective on Charleston's beverage industry.
"We started posting different cocktails on Instagram, meeting bartenders around town, and it grew from there," Reaves tells VinePair. "Brands started to send us products to review, which led us to start our blog because people wanted to see more of what we were doing behind the scenes."
Breaking into the industry wasn't easy. Charleston is one of the most progressive markets in the state, Caldwell and Reaves say, but it remains very segregated. As black women operating a relationship-based business without an inherited community, Cocktail Bandits had to get creative about raising awareness and rallying support from brands and restaurants.
"We both studied political science in college, and we've learned that discussing what's going on in the world can be tough," Reaves says. "But when you're able to have a cocktail and have those tough conversations about everyday issues, it can be a lot easier."
In a recent study, "Women in The Workplace 2018," LeanIn.org and McKinsey & Co. surveyed 64,000 American employees about their experiences in their workplaces. The results were staggering: 40 percent of black women reported having their judgment questioned in their area of expertise, versus 27 percent of white men. For every 100 white men promoted to manager-level positions, 60 black women advanced.
"People of color occupy large swaths of our industry, just at an entry level, and we have to continue to ask ourselves, 'Why doesn't that translate to seeing us in the most celebrated positions?'" Ashtin Berry, a hospitality industry activist and co-founder of  Radical Xchange, an agency that creates intersectional content, says.
"I built my own table," Cha McCoy, sommelier and founder of CHA Squared Hospitality, tells VinePair. Her intimate wine experiences, called "New York City's Vibiest Wine Tasting" by New York Magazine, grew from "six people in my living room to 50 people shutting down restaurants," McCoy says. "As I create my extensions of my brand and verticals for my services, I know I have to prove to the wine and tourism industry on my own that I am worth partnering with. I have to stay steadfast and innovative on proving my worth."
Reaves recalls how, when she and Caldwell first joined the U.S. Bartenders Guild soon after forming the Cocktail Bandits, eager to gain technical cocktail expertise, they met a woman who promptly offered them unsolicited, inaccurate advice about how to break into the industry.
"She was kind of rude to us and told us that if we wanted to get into influencer marketing, we had to have 10,000 or more followers and be connected with every influencer in the city — just some ridiculous requirement," Reaves says. Cocktail Bandits decided to continue with their existing strategy: sharing upcoming events, cocktail recipes, and travels on their Instagram, @cocktailbandits, in a way that felt true to themselves.
It worked, beautifully. Instagram became a viable marketing tool for the duo — they now have 29,500 followers. Posts feature partnerships with brands like Patron and announce upcoming events, ranging from charity cocktail fundraisers, to Margarita classes, to hip hop happy hours with industry luminaries like Tiffanie Barriere. Their platform also provides a community where people from all walks of life can discuss issues of race, social justice, and equity in the hospitality industry.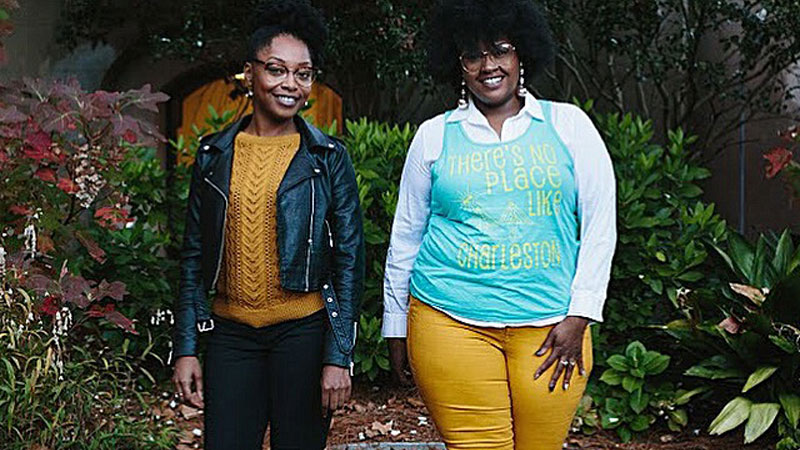 The Cocktail Bandits have since hosted sold-out events at the Atlanta Food & Wine Festival and the Charleston Food & Wine Festival. In February 2019, they spoke at Resistance Served, a three-day food and beverage conference produced by Radical Xchange. It brought thought leaders from across the industry to New Orleans to discuss, study, and celebrate black Americans' contributions to the hospitality industry.
They also travel extensively to speak at festivals and seminars about building brands on social media, and published their first book, "Holy Spirits! Charleston Culture Through Cocktails," in 2018. The community they created now serves as a model for others hoping to do the same.
"At the end of the day, it's not all about the cocktails," Caldwell says. "It's all about pursuing what you want to do and making that something that people can enjoy, learn from, and be inspired by."
The article The Innovators Pioneering Community, Conversation, and Excellent Cocktails in Charleston appeared first on VinePair.