What's better than strawberry cheesecake?
This Strawberry Cheesecake Smoothie Bowl with Strawberry Shakeology and Collagen Boost, that's what.
Skip the heavy dessert and whip up this smoothie bowl recipe instead, with protein from cottage cheese and Shakeology, sweet strawberries, Collagen Boost, and whole-grain graham cracker crumbles for a crunchy topping.
You'll be treating yourself to a healthy snack and gorgeous skin and nails!
Pro tip: Find your favorite Shakeology flavor here and get Collagen Boost here.
Strawberry Cheesecake Smoothie Bowl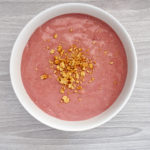 Treat yourself to a healthy snack and gorgeous skin and nails at the same time with this Strawberry Cheesecake Smoothie Bowl with Collagen Boost.
¾ cup reduced-fat (2%) cottage cheese
½ cup unsweetened almond milk
1 scoop Strawberry Shakeology
1 scoop Collagen Boost
½ cup sliced strawberries
2 Tbsp. whole-grain graham cracker crumbs
Place cottage cheese, almond milk, Shakeology, and Collagen in a food processor; cover. Pulse until smooth.

Pour mixture into a serving bowl. Top with strawberries and graham cracker crumbs.

Serve immediately.
The Nutrition Facts box below provides estimated nutritional information for this recipe.
P90X/P90X2 Portions
Dairy 1
Protein 1
Carbohydrate ½
Fruit ½
P90X3 Portions
Carbohydrate 1
Fat ½
Proteins 3
Container Equivalents
Purple ½
Red 2
Yellow ½
tsp. ½
2B Mindset Plate It!
This recipe makes a great breakfast option.
If you have questions about the portions, please click here to post a question in our forums so our experts can help. Please include a link to the recipe.
Please follow and like us: