Morning Meltdown 100 is the newest workout program from Beachbody Super Trainer and CORE DE FORCE co-creator Jericho McMatthews.
With Jericho's guidance, the 100 workouts give you 100 opportunities to work on yourself  — and reap the rewards of working out in the morning.
These folks took the challenge and C-R-U-S-H-E-D Morning Meltdown 100 — see their amazing transformations for yourself!
Pro tip: Find out more about Morning Meltdown 100 and Jericho McMatthews.
Natasha P. Lost 40 Pounds†
"Before starting Morning Meltdown 100, I felt embarrassed about how I looked. I did not want to go out in public or be in photos with my kids.
I felt ashamed that I had gained so much weight. I was tired all the time and just unhappy and depressed.
I. LOVE. JERICHO! I love how she is so positive and relatable and badass at the same time. I want to be her when I grow up. I love that she doesn't get all mushy gushy in the workouts and just pushes you to do your personal best for each move.
Physically, I have lost so much weight my face is almost unrecognizable. I look forward to my morning workouts every day. I feel like now that I have finished 100 workouts I can do anything!"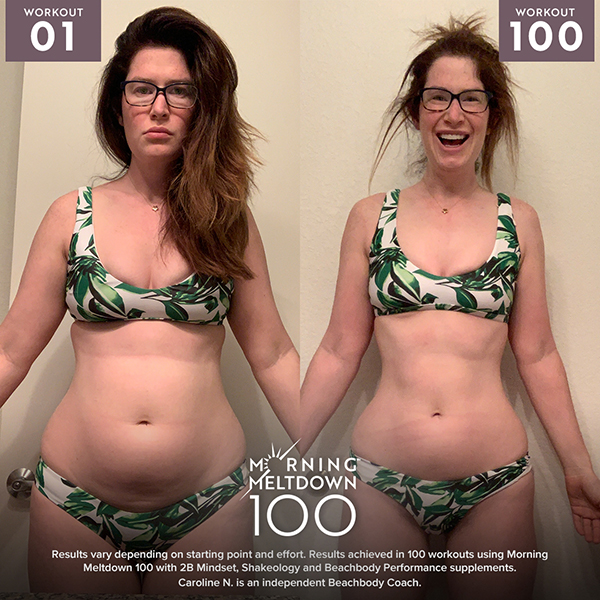 Caroline N. Lost 12.2 Pounds†
"I've never completed a Beachbody program and I needed something to commit to so that I could finally get the results I wanted. I felt physically and mentally defeated. I had no body confidence and I felt like I was just going through the motions of the days.
Jericho is INCREDIBLE! I love her style of teaching, her instructions, and how she feels so real and personable. I've never connected with a trainer like I have with Jericho.
I followed 2B Mindset and it was so helpful and I never felt deprived. I stayed on-track because of the flexibility of 2B Mindset.
EVERYTHING has changed! I'm in the best shape of my entire life. Mentally, I feel like a warrior. I feel like I can truly accomplish anything!"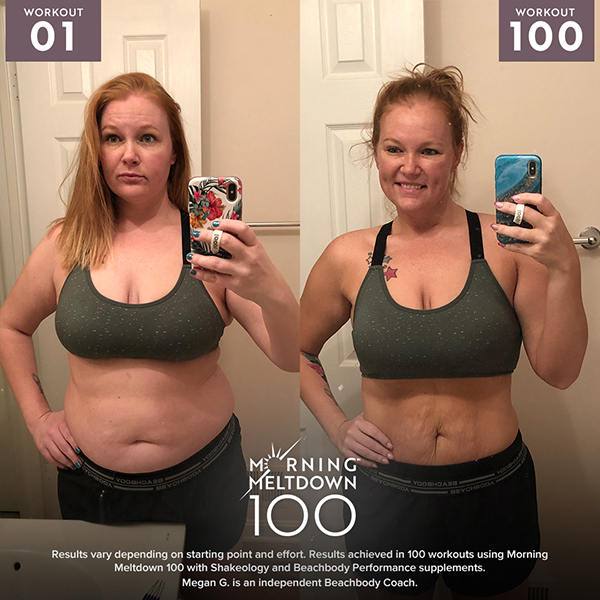 Megan G. Lost 26.9 Pounds†
"I was nervous to make the commitment to 100 workouts. I had never completed a full program until now. I felt lost and I didn't love the person I was. I hated what I saw in the mirror.
Jericho is equal parts badass ninja and sweet Southern charm. She's humble and gorgeous and tells you exactly what you need to hear. I just let her words breathe fire into me.
Morning Meltdown 100 gives you the ability to LEVEL UP and improve your fitness while getting your mindset right. I shed my negative self-talk and I blossomed into a new person.
Sure, I lost weight, but I also lost the anger and resentment I had for myself and how unhappy I was with my life. I feel stronger and leaner and ready to start this new life with a positive outlook and finally share my true self with the world!"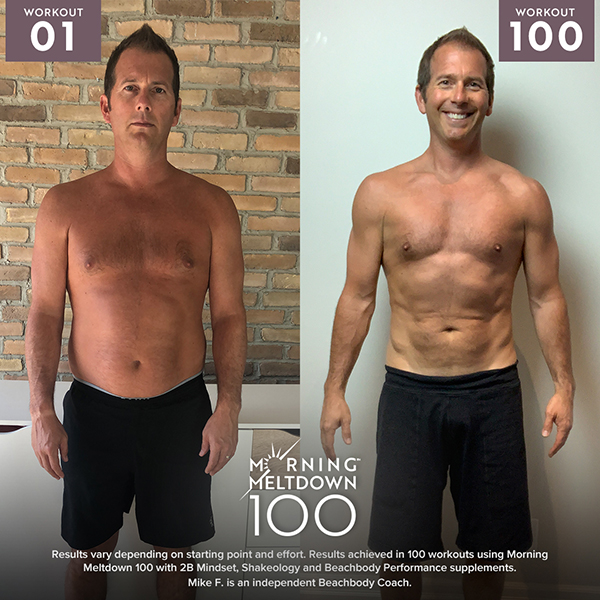 Mike F. Lost 22.2 Pounds†
"I was coming off back-to-back injuries and needed to get into a morning routine to start taking care of myself again.
I was so excited to start this program as I had been feeling like I didn't have a way out of the funk I was in. I was tired, sluggish, and feeling a total lack of confidence in myself.
Jericho was amazing! What I loved best is her ability to talk to the camera yet make it feel like she was speaking directly to me. She was really able to get the best out of me each and every morning, even when I really didn't feel up to the task.
Morning Meltdown 100 has given me the confidence that I once had. It made me see how getting back into a morning routine each day could have lasting effects on both my physical and mental health.
This is how you start a new lifestyle. This is a way to really develop a routine to make this something you do each and every day, not just a one-time thing."
Lauren F. Lost 19.8 Pounds†
"Morning Meltdown 100 brought me back to life, but a way better version of me!
I went into this program hoping to continue my postpartum weight-loss journey and focus on self-care. My results surpassed anything I could have imagined.
I not only shed 28 inches, but I also shed so many limiting beliefs I didn't even know I had about myself. I learned how capable I am and that even after having three kiddos, I can still be a badass!
Jericho is an amazing human. You could truly tell she put her heart into this program, and her creativity with the variety of styles and exercises is incredible.
I loved being constantly surprised by what was in the workouts and how I was able to personally level up to that.
Starting your day off with these workouts and pairing it with the tools and nutrition, it makes building a healthy lifestyle achievable and maintainable."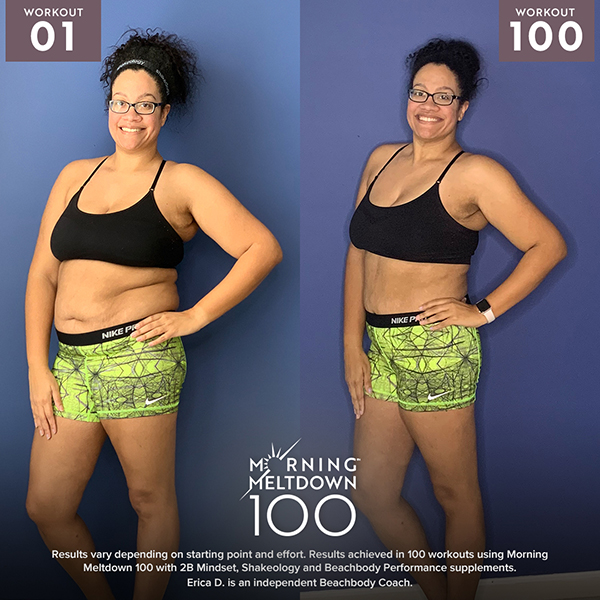 Erica D. Lost 12 Pounds†
"I wanted to see what happened when I went all in and the result is even more than I thought it would be. I feel so amazing and confident. And I believe in myself 100 percent.
I love Jericho. She is such an awesome motivator. I connected with her because she is so real and a momma like me.
Everything about Morning Meltdown 100 is amazing: Jericho, the live DJ, the unique moves, and how it's changing my mind and body!"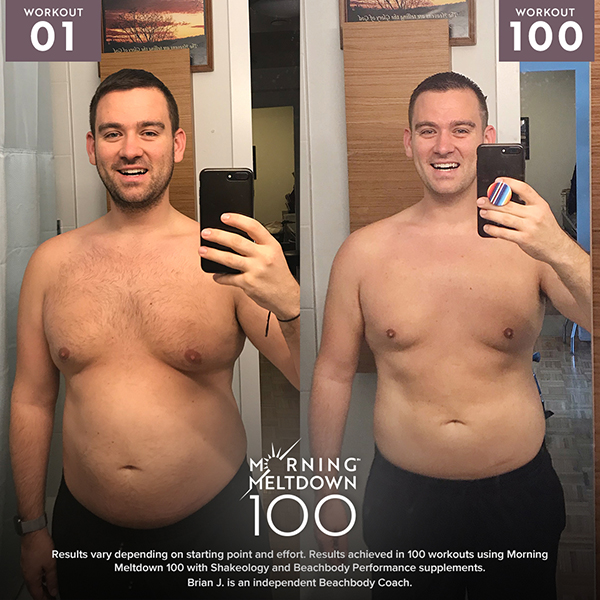 Brian J. Lost 18 Pounds†
"All of the Beachbody programs work but I needed to commit to a lifestyle-based program that allows me to live my life but still see and maintain results.
I was very nervous to commit to mornings as someone who has always hated them and never worked out in the morning. I was scared of working out for 100 days straight!
Jericho is a goddess! She is fierce, relatable, and I feel like she is training me in a live class every day.
She says exactly what I need to hear every time I need to hear it and she also pushes me when I often need that. You can feel her passion and heart for the mission and this program!
My confidence is completely shifted and I am finally feeling fit and happy. Physical changes are amazing, but the real changes that create lasting results are in the mindset. I feel amazing!"
†Results vary depending on starting point and effort. Exercise and proper diet are necessary to achieve and maintain weight loss and muscle definition. The testimonials featured may have used more than one Beachbody product or extended the program to achieve their maximum results.
Please follow and like us: