A sweet, ice-cold piña colada on the beach sounds heavenly, right?
But in reality, that means a lot of sugar and sunburn. So protect yo'self before you wreck yo'self with this healthier piña colada with a collagen boost.
This piña colada recipe features unsweetened coconut milk beverage, coconut water, frozen pineapple, 2% Greek yogurt, and a scoop of Collagen Boost for gorgeous skin and nails.
One taste and you'll never go back to the original.
Pro tip: Don't have Beachbody Collagen Boost yet? Get it here.
Piña Colada With Collagen Boost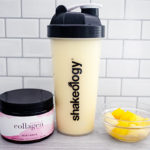 Skip the sugar and sunburn this summer and sip on this healthier Piña Colada with Collagen Boost.
1 cup unsweetened coconut milk beverage
½ cup frozen unsweetened pineapple
½ cup unsweetened coconut water
¼ cup + 2 Tbsp. reduced-fat (2%) plain Greek yogurt
1 scoop Collagen Boost
Place coconut milk, pineapple, coconut water, yogurt, and Collagen Boost in a blender; cover. Blend until smooth.

Serve immediately.
The Nutrition Facts box below provides estimated nutritional information for this recipe.
P90X/P90X2 Portions
Fat ½
Dairy ½
Fruit 1
P90X3 Portions
Carbohydrate 1
Fat 1
Protein 1
Container Equivalents
Purple ½
Red 1
Yellow ½
tsp. ½
2B Mindset Plate It!
Enjoy as a part of breakfast.
If you have questions about the portions, please click here to post a question in our forums so our experts can help. Please include a link to the recipe.
Please follow and like us: