Love it or loathe it, Las Vegas serves the world. Forty-million-plus visitors get pulled into its neon vortex each year—for conferences, card games and, increasingly, cocktails. Gambling, forever the city's lifeblood, has shown signs of fatigue lately as millennials eschew blackjack benders and free booze for more meaningful, or at least Instagrammable, experiences.
"It's all about authenticity," says Patrick Lang, the vice president of global restaurant and nightlife development for Las Vegas Sands, which owns The Venetian and The Palazzo properties. "We're seeing a new type of traveler today, one who expects the same quality food and beverage experiences they find in New York, San Francisco or Paris. We're spending a lot of money to give them something to be excited about.
The result is a new-look, new-feel Las Vegas with smarter attractions, better restaurants and enough world-class bar talent both on and off the Strip to beg the question: Is Vegas quietly becoming the best drinking city in America? It's time to say goodbye to Sin City and hello to Sip City. These are five reasons why you should drink your way through the land of no limits.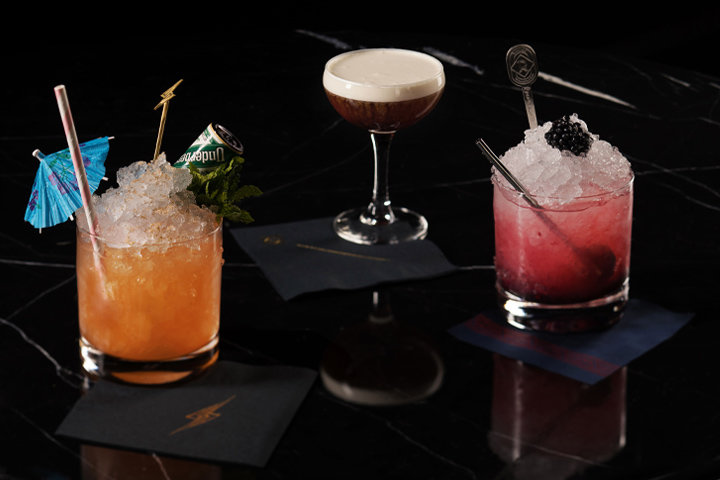 1. THE CELEBRITY BARTENDER GAME IS STRONG
Legendary Aussie bartender Sam Ross (Milk & Honey, Attaboy) has had a foot in the Vegas drink scene for nearly a decade. But it wasn't until the completion of the Venetian Cocktail Collective in 2018 that he cemented his reputation as the city's King of Craft. His trio of curated lounges—Electra Cocktail Club, The Dorsey and Rosina—represent a new chapter in the Strip's cocktail culture—one in which focused craftsmanship and sophistication are prized over the bottle service's conspicuous consumption. "This is a town that's always valued exclusivity," says Ross. "What we're trying to do is show people that anyone can enjoy a quality drinking experience among the chaos of a casino. It all starts with one good drink."
There are plenty of those to go around at The Venetian and The Palazzo, whether it's the cold brew and amaro-spiked Coney Island Express at The Dorsey or the Penichillin, a frozen riff on Ross' modern scotch classic, at Electra. At the revamped Palms Casino Resort, global bar celebrity Francesco Lafranconi adds his name to a growing list of top-tier restaurant talent. His new spot, Mr. Coco, promises live piano music and a dazzling cocktail menu that ranges from truffle-infused cognac and a Champagne "amuse bouche" to an Espresso Martiniservice that deserves its own Cirque du Soleil show.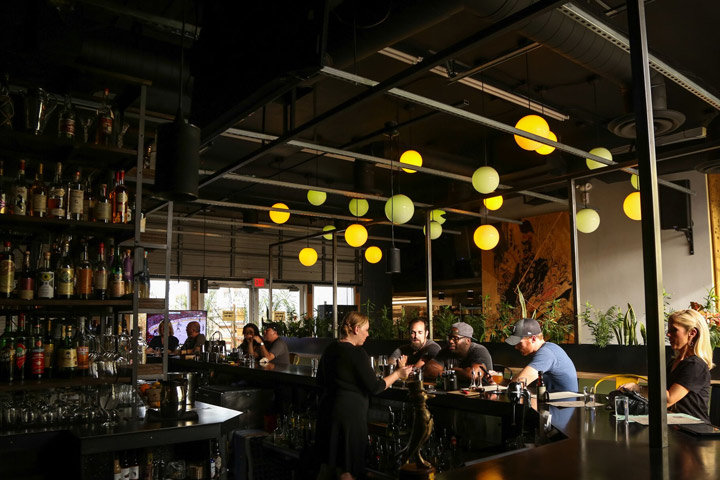 2. IT'S NOT ALL BRIGHT LIGHTS AND SLOT MACHINES
When online retailer Zappos opened its headquarters in downtown Las Vegas in 2013, hundreds of young, thirsty new residents suddenly needed a place to drink. The 18-block Arts District, a short cab ride from the rumpus of the Strip, has taken up the mantle. "We have our own little thing happening out here," says Danielle Couch, the co-owner of Jammyland, a real-deal rum bar with a spirits list that rivals any of the high-roller lounges on the Strip. "There are a lot of creatives in this city. Sometimes, they just want a place to decompress, listen to music and have a well-made drink."
Across the street, the nook-filled Velveteen Rabbit adopts a culinary approach to cocktailing. Owners-sisters Christina and Pamela Dylag time their menu to the seasons, using such ingredients as brie cream, sundried tomato and eucalyptus-infused bourbon in their creations. At ReBar, a cocktail den inside of an antique store, everything you see is for sale, including the vintage beer steins, which you can fill with local brew and store behind the bar until your next visit. See, what happens here can stay here!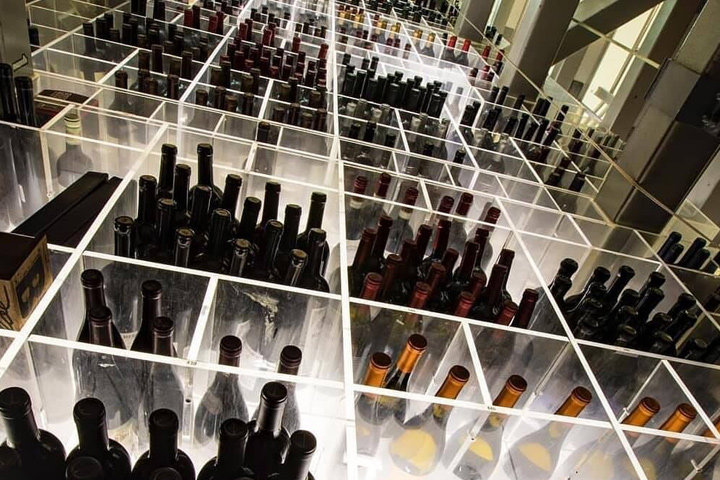 3. EVERYONE'S A WINE EXPERT. EVEN YOU.
Fact: There are more master sommeliers in Las Vegas than there are in San Francisco. So for every towering cup of blender booze you see stumbling down the Strip, know that somewhere nearby a bottle of first-growth Bordeaux is being expertly decanted. Not that all wine tasting here need be of the big-ticket, pinky-raising variety. Legendary off-Strip Thai restaurant Lotus of Siam is as famous for its 63-page list of German (and mostly affordable) rieslings as it is for its succulent khao soi.
You can be your own somm at Hostile Grape, a subterranean wine bar at M Resort with an automatic dispensing system that spits out 160 Old and New World pours by the full and half glass. And for an evening of only-in-Vegas-style cork popping, Mandalay Bay restaurant Aureole stocks a library of 10,000 bottles representing pretty much every appellation in the world. Choose one and watch as a harnessed "wine angel" scales a four-story glass tower to retrieve your selection—like Tom Cruise in "Mission Impossible" if he were thirsty instead of saving the world.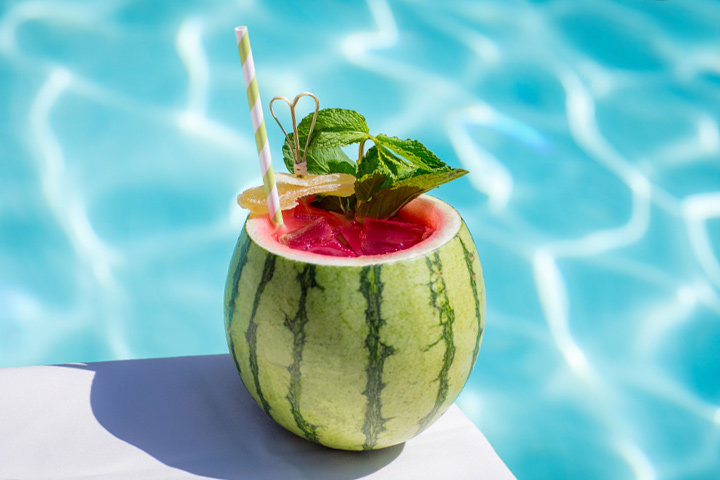 4. DAY DRINKING IS A WAY OF LIFE
The (unofficial) recommended length of stay in Las Vegas is 39.5 hours—long enough to get the gist but not so long that you want to strangle a slot machine. Day drinking, therefore, is a must. Start big with one of the city's famously rococo Bloody Marys, like the Colossal Bloody Mary at the Paris hotel's Hexx Kitchen + Bar, which comes with a produce cart of pickled vegetables, as well as bacon, beef jerky, a jumbo prawn and an Alaskan king crab leg. Less of a spectacle, but not less spectacular, is the marmalade-thickened Breakfast Martini served at famed Italian bartender Salvatore Calabrese's Bound at The Cromwell.
When it comes to poolside drinking, Vegas can be a wash of Bud Light buckets and machine-made Margaritas. To go deeper, dive into the cocktail list at The Palazzo's Aquatic Club, a less hedonistic version of the dreaded "day club," where you can sip a French 75 peacefully in your bathing suit minus the flesh-thumping Skrillex soundtrack. Brew hounds will find all they need at Beerhaus (in The Park), one of the only honest beer gardens on the Strip, featuring local brews, local bands and, pretty soon on the TVs, local ball games when the Raiders kick off the 2020 NFL season in Las Vegas.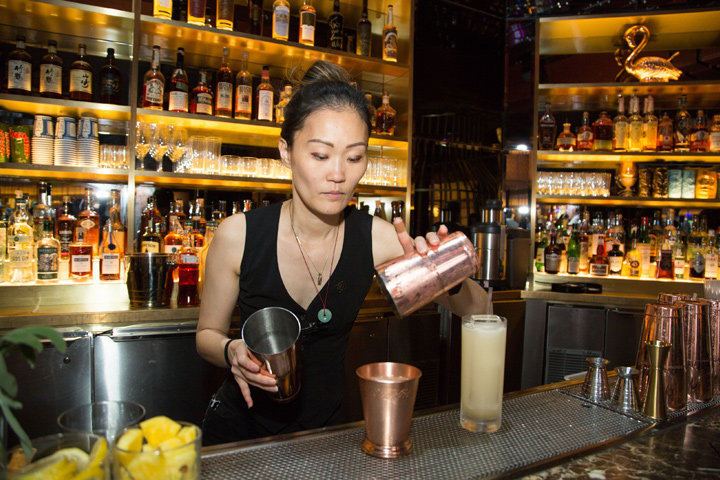 5. BARTENDERS CAN ACTUALLY AFFORD TO LIVE HERE
The cocktail scenes in New York, San Francisco and Los Angeles are top-notch, just like the cost of living there. Since rebounding from the 2008 housing crisis, Las Vegas has become one of the friendliest places in the country for hospitality employees. Rapid job growthcoupled with reasonable rents and a strong service-workers union amounts to a perfect cocktail of opportunity for prospective drink slingers.
"I know a lot of bartenders leaving L.A. and New York because it's gotten so crazy-expensive," says Juyoung Kang, the head bartender at The Dorsey. "You can come here and work hard and make a lot of money fast. You can buy a house and live a real life with dogs and a backyard. I mean, I don't know a bartender who wouldn't want to do that."