With the country's snowbirds descending on Utah this winter for 
Sundance
 and ski season, now might be a good time for a quick refresher on how to drink in Utah. While it's a lot easier to score a proper drink in the Beehive State than it used to be, there remain a few unusual quirks that you should know about.
First, the good news: 2019 marks the 10-year anniversary of the state finally getting rid of its much-maligned and often-mocked private club rule. Before that, ordering a drink in Salt Lake or Park City meant submitting to a bizarre game of cloak and dagger in which you had to be invited into a private club to imbibe. Those private clubs are now called bars, and there are lots of good ones.
Yet despite recent modernization efforts and the relaxation of its more draconian liquor laws, a few remnants of the state's more puritanical past do remain. For example, you can only get 1 1/2 ounces of a primary spirit in a cocktail, with a second ounce permitted as a sidecar only if it is a different spirit than the primary and is served from a bottle clearly marking that additional spirit as "flavoring." Also, only beer up to 4 percent ABV is available on draft at bars (although you can get the harder stuff in bottles). In addition, you still need to order food if you're drinking at a restaurant. And finally, Utah's new drunk driving law—which limits blood-alcohol content to 0.05 percent, the lowest in the nation—went into effect December 30.
Yet despite these minor limitations, getting a drink in Utah (especially in more cosmopolitan and tourist-friendly areas around Salt Lake City and Park City) is the same as getting a drink anywhere else: You sit down at the bar and order one. With that in mind, these are the 10 best places in the state to do so.
1:

 

FEEL LIKE YOU'RE IN A TV SITCOM AT

 

BAR X

 

AND

 

BEER BAR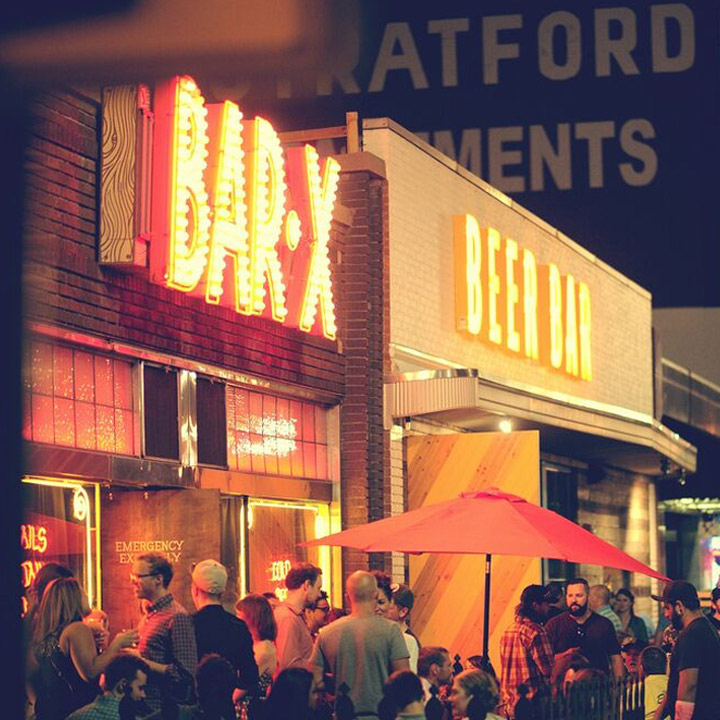 Any night of imbibing in Salt Lake City typically starts at Bar X and its adjoining next-door sister, Beer Bar. Known as one of the best places in town to get an expertly crafted cocktail (and see some live music) since its 2010 opening, Bar X upped its game in 2014 with the addition of Beer Bar, a more laid-back, well-lit and open garage-style space of long bench tables and 150 beers. Drink yours on the bustling outdoor patio it shares with Bar X, but beware: The gyro fries here mean serious business. Bonus points: Both bars are co-owned by "Modern Family" star Ty Burrell (a.k.a. Phil Dunphy) and his real-world family.
2:

 

SEE THE ULTIMATE DOUBLE FEATURE AT

 

BREWVIES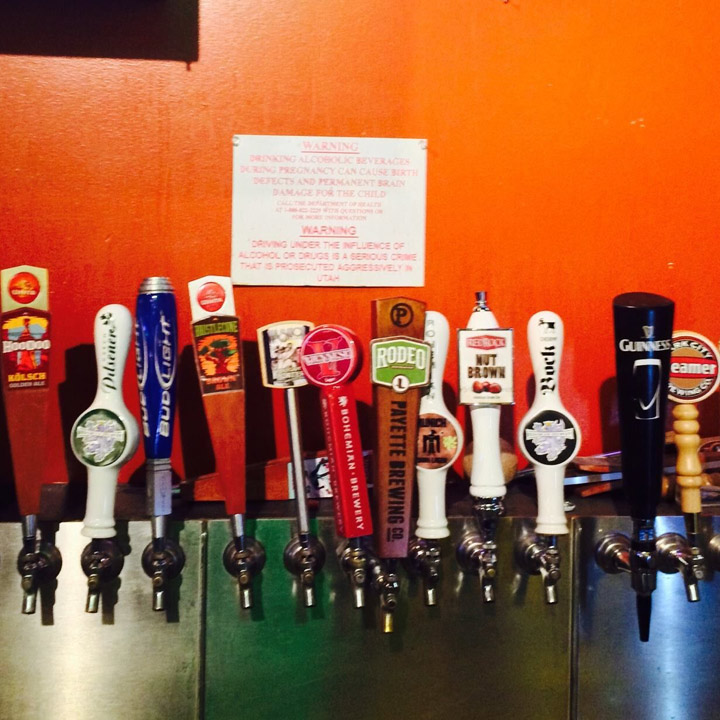 Utah's original cinema pub was born in Salt Lake City in 1997, with a second location recently opened in nearby Ogden. Its premise of pairing craft beer with movies is simple but has proven highly effective. The Brewvies Cinema Pub menu showcases Utah craft stalwarts like Epic, Red Rock, Squatters, Uinta and Wasatch, plus names you might be more familiar with including Lagunitas and PBR. But since no trip to the movies would be complete without nosh, it's also serving up a full pub-style menu heavy on beer-soaking staples like pizza and burgers to pair with movie-themed craft cocktails like the Walter White and Mr. Pink. Films screened at the venues include typical Hollywood blockbusters like "Bohemian Rhapsody" and "Creed II," with movie prices cheaper than your typical theater-going experience.
3:

 

FILL YOUR WINE GLASS AT

 

BTG
The gorgeous BTG Wine Bar in downtown Salt Lake City offers 75 wines by the glass (or BTG), perfect for everyone from wine novices unsure of what to order to hard-core aficionados. Selections come in two-ounce samples, five-ounce pours, or bottles, which run the gamut from Italian prosecco to Oregon pinot noir. Don't pass on the small bites made for wine pairing, like duck meatballs and prosciutto dates. While largely serving a more buttoned-down crowd, the laid-back space remains a nice low-key way to start your evening before getting further involved in your Utah drinking adventure.
4:

 

HIT A DIVE BAR AT

 

BONGO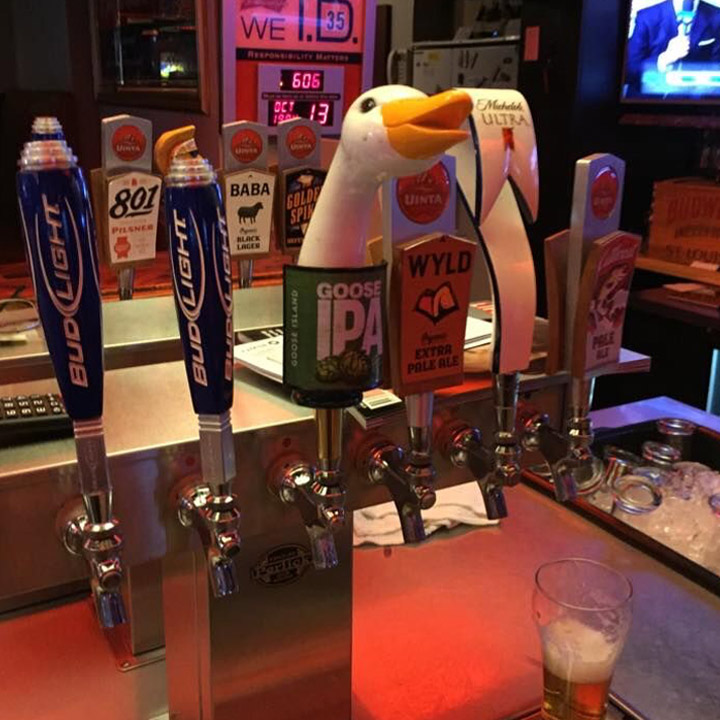 While many will point you in the direction of Salt Lake City's infamous Twilite Lounge when seeking out the best dive bar in Salt Lake City, a more under-the-radar experience can be had at Bongo Lounge, a windowless dive sandwiched between two furniture stores in the city's increasingly hip Sugar House district southeast of downtown. Here, you'll be pleased to discover all your dive bar essentials: cheap drinks, dim lighting, a quality jukebox, a few bar games like darts and a pool table, and an interesting cast of characters. Chat up neighborhood regulars at the rectangularly shaped bar or grab an elevated booth along the wall at this cash-only institution that hasn't changed much since opening in 1952.
5:

 

FIND YOUR ROOFTOP PERCH AT

 

NO NAME SALOON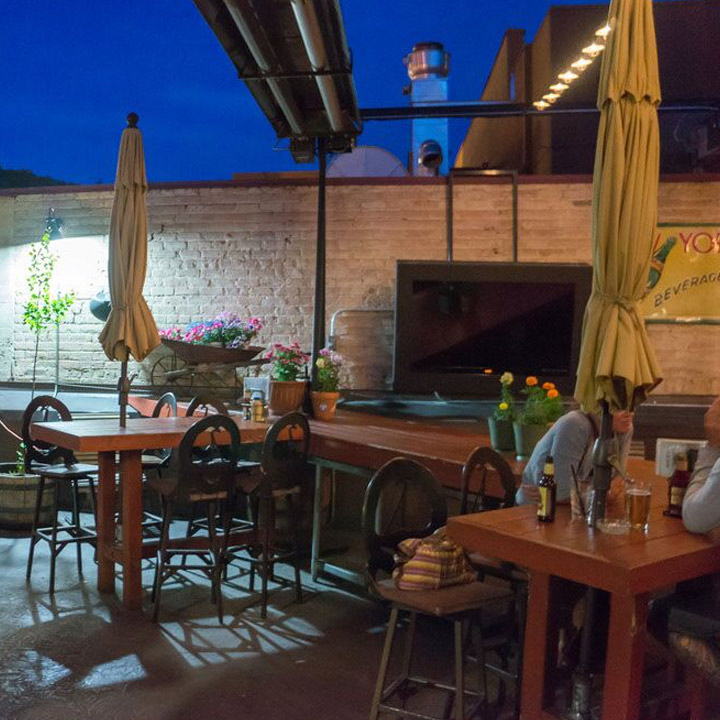 Anyone who has set foot in Park City institution No Name Saloon can attest to its bona fides as one of the best bars in Utah. The vibe inside is pretty much perfect any day of the year, whether it's packed with tourists during Sundance or more sparsely populated with bearded locals on a Monday night who gather amid its affable assortment of antiques to discuss their latest ski adventures in the surrounding Wasatch mountains. But the best part of the bar might be its rooftop patio overlooking Main Street, where you can park your chair in the sun and bask in a glorious afternoon sun, chatting up locals or diving into one of the famous buffalo burgers. The historic Spanish colonial building is one of the most iconic structures in Park City, originally built in 1905. Bottom line: You need to work to have a bad time here.
6:

 

SIP A BREW AT UTAH'S BIG BEER BAR

 

O'SHUCKS
Comically large 32-ounce schooners of beer, peanut shells on the floor, questionable odors—welcome to the delightfully weird confines of O'Shucks, the classic downtown Park City dive whose close quarters often result in some interesting exchanges with the diverse cast of characters who frequent this good-time watering hole, populated by everyone from local ski bums to bewildered tourists. There's pool and shuffleboard, but the main action here is centered around the beer schooners, which come in a variety of craft and noncraft options. For a more family-friendly O'Shucks experience, the bar offers an additional Park City location in Quarry Village north of town, as well as a slightly classier outpost in downtown Salt Lake City. When it comes to drinking at O'Shucks, it seems Utahans can't get enough.
7:

 

TOUR A DISTILLERY AT

 

HIGH WEST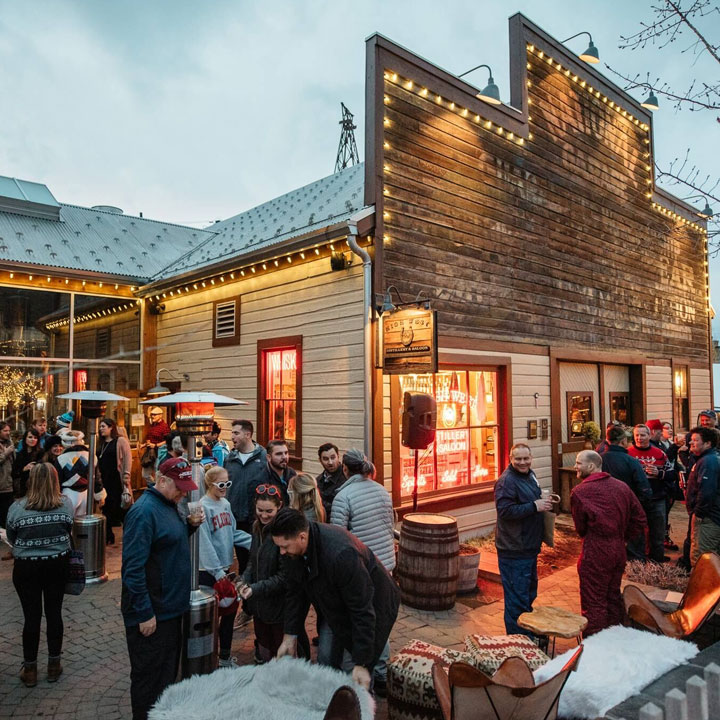 The world's only ski-in, ski-out gastro-distillery, High West's popular Park City saloon location is the ideal spot to pair whiskey with an upscale meal of steaks and pork shops inside a charming space whose historic Old West general-store-style façade is the stuff of thirsty Instagram dreams. Yet Utah's once-obscure distillery has become something of a regional powerhouse in recent years, with a second cottage location for prix fixe dinners in Park City, another location at the Salt Lake City airport and its distillery location in nearby Wanship, also open for tours and tastings. Named Distiller of the Year by "Whisky Advocate" in 2016 and sold that same year to Constellation Brands for $160 million, High West is clearly Utah's king of craft distilling.
8:

 

RAISE A PINT AT

 

STRAP TANK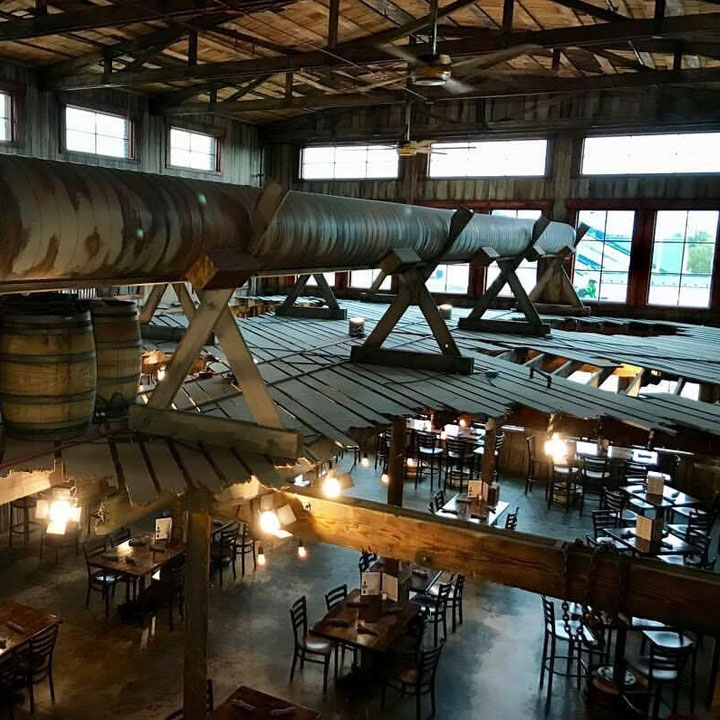 With Salt Lake County home to more than half of Utah's 350 bars, the rest of the state's 28 counties are left with comparatively few options when it comes to a booze-fueled night on the town. For years, the situation was especially dire in Utah County, the state's second-largest county, which includes Provo and is made up of more than 80 percent alcohol-abstaining Mormons. Things got a little less bleak for long-neglected brew lovers in 2016, when Springville's Strap Tank Brewing Co. opened the county's first brewery since Prohibition inside a building designed as a replica of the original Harley-Davidson factory. Strap into the cool motorcycle-themed space to explore an excellent menu of highly sessionable 4 percent ABV ales and slightly stronger stuff in bottled form.
9:

 

APRÈS-SKI AT

 

SHOOTING STAR SALOON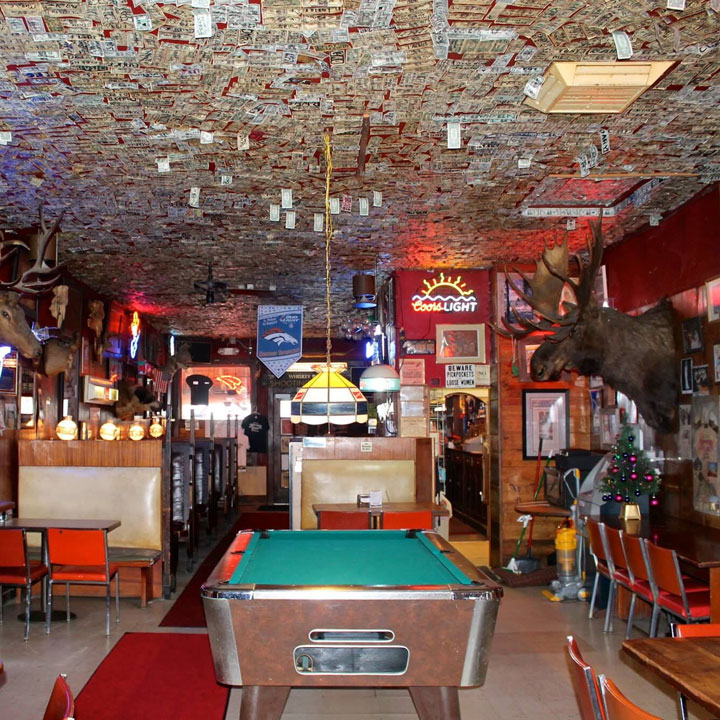 Utah's oldest bar (and one of the oldest bars west of the Mississippi) has been in continuous operation since 1879 and has all the glorious kitsch to prove it. With a relaxed lodge-style interior decked out in wood paneling and taxidermy animals with a few old-timey touches like a vintage cash register, the first thing you'll notice about Shooting Star Saloon is the absurd number of dollar bills that patrons have taped on the ceiling here over the years (which bar employees estimate at around $15,000 total). The family-friendly, cash-only, beer-only saloon is surrounded by ski resorts like Snowbasin and Powder Mountain, making it an excellent après-ski stopover for cheap pitchers of local Wasatch ale.
10:

 

DRINK LIKE A VIKING IN

 

THE VIKING YURT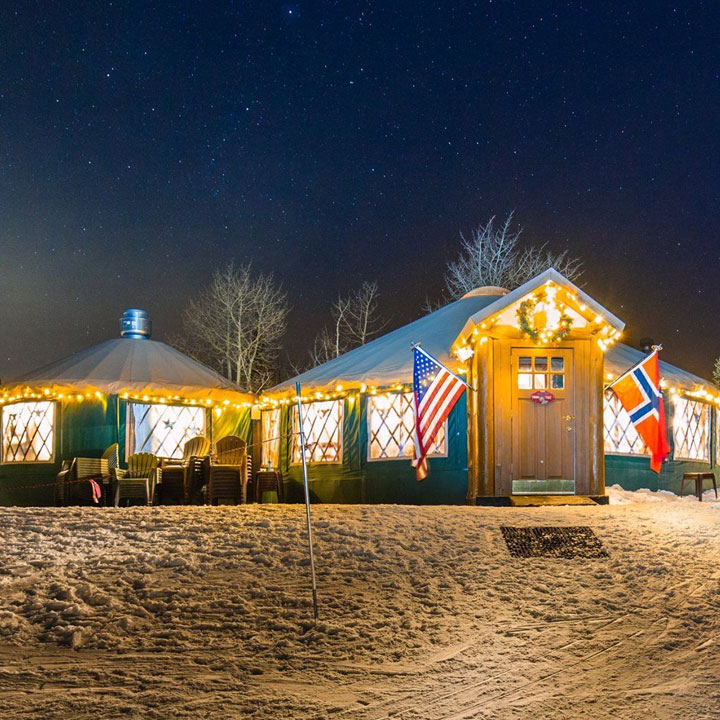 There are dinners, and then there are six-course gourmet dinners served in an upscale yurt only accessible via a 23-minute snowcoach ride up 1,800 feet to the top of Park City Mountain Resort. Once inside the romantic chalet-style Viking Yurt (only open in winter), it's time to uncork the bottle of wine you brought with you or dive into their small yet interesting drink menu featuring shots of Linie aquavit (known as the "spirit of Norway") or cocktails like their Ullr concoction made with peppermint and cinnamon schnapps. There are also whiskey shots from High West, and Stiegl or Ayinger bräuweisse beers to pair with your gourmet Norwegian feast as a pianist tickles the keys on an in-yurt baby grand piano.