Good news, procrastinators: We've got a shake that can help get your life together, crush ALL the goals, and it tastes d-e-l-i-c-i-o-u-s.
(OK, maybe not the first one, but you'll definitely be crushing nutrition goals left and right with this delicious shake!)
Our Goal Achiever Shakeology is made with Vanilla Plant-Based Vegan Shakeology and Focused Energy Boost so you can give your body a healthy start to the day. (Or a tasty late-afternoon kick in the pants!)
Interested in Shakeology and Shakeology Boosts like Focused Energy? Talk to your Team Beachbody Coach or learn more here.
Goal Achiever Shakeology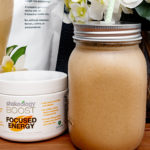 1 cup water
1 cup ice
1 scoop Vanilla Plant-Based Vegan Shakeology
1 scoop Focused Energy Boost
½ small banana
½ tsp. almond butter
Combine water, ice, Shakeology, Boost, and banana in a blender; cover. Blend until smooth.

Pour into a serving glass. Serve immediately.
The Nutrition Facts box below provides estimated nutritional information for this recipe.
P90X/P90X2 Portions
½ Fruit
1 Protein
½ Single Serving Snack
P90X3 Portions
½ Carbohydrate
½ Fat
2 Protein
Container Equivalents (Regular and Vegan)
1 Purple
1 Red
½ tsp.
2B Mindset Plate It!
This recipe makes a great breakfast.
If you have questions about the portions, please click here to post a question in our forums so our experts can help. Please include a link to the recipe.
Please follow and like us: