After-school snacks made going to school bearable, right?
This Cinnamon Toast Shakeology will take you back to those good old days, without the "stress" of homework and school projects.
We health-ified one of your childhood snacks with Cafe Latte Plant-Based Vegan Shakeology and a scoop of Digestive Health for good measure.
Pro tip: Find your favorite Shakeology flavor here and get more Shakeology recipes here!
Cinnamon Toast Shakeology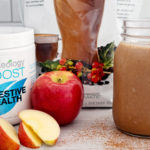 Health-ify a favorite childhood treat with Shakeology and Digestive Health Boost. This Cinnamon Toast Shakeology will be your new after-school (work) snack!
1 cup unsweetened almond milk
1 cup ice
1 scoop Café Latte Plant-Based Vegan Shakeology
1 scoop Digestive Boost
½ small red apple, cored, cut into chunks
1 tsp. ground cinnamon
Combine milk, ice, Shakeology, Boost, apple, and cinnamon in a blender; cover. Blend until smooth.

Pour into a serving glass.
The Nutrition Facts box below provides estimated nutritional information for this recipe.
P90X/P90X2 Portions
½ Fruit
1 Protein
1 Single Serving Snack
P90X3 Portions
½ Carbohydrate
1 Fat
2 Protein
Container Equivalents (Regular and Vegan)
1 Green
½ Purple
1 Red
1 tsp.
2B Mindset Plate It!
This recipe makes a great breakfast option.
If you have questions about the portions, please click here to post a question in our forums so our experts can help. Please include a link to the recipe.
Please follow and like us: