We're crazy about amaro. Amari (plural form of amaro) are bitter Italian liqueurs with rich flavor profiles, often herbal and citrusy, that add incredible depth and complexity to cocktails. They are typically both bitter and sweet, made by infusing herbs, fruit, roots, bark, and citrus peel into a spirit, then sweetened and barrel-aged to perfection.
This month we'll be featuring some of our favorite amaro cocktails, and encouraging you to go buy a bottle of the beautiful stuff to try them out. For more on amaro, read our blog post, What is Amaro? All About Italian Herbal Liqueurs.
The Amaro Sour was originally published in Brad Thomas Parsons Book, Amaro. The book is a beautiful collection of all things amari, and has over 100 recipes for using amaro in cocktails and cooking (as well as DIY instructions for making your own at home!).
Averna Sour Cocktail Recipe
1 1/2 ounce Averna (also recommended: Amaro Lucano, Luxardo Amaro Abano)
3⁄4 ounce bourbon
1 ounce freshly squeezed lemon juice
1⁄4 ounce simple syrup
1 egg white
lemon zest and cocktail cherry for garnish
Combine ingredients in a shaker tin and dry shake for at least 10 seconds (shake without ice). This serves to incorporate the egg white into the rest of the ingredients, and helps to create that beautiful frothy foam and smooth texture.
Add ice to the shaker, shake to chill, then strain into an Old Fashioned / Rocks glass filled with ice. Garnish with a lemon peel, lemon zest, or (our personal favorite) nutmeg for a nice bright touch on a sunny winter day.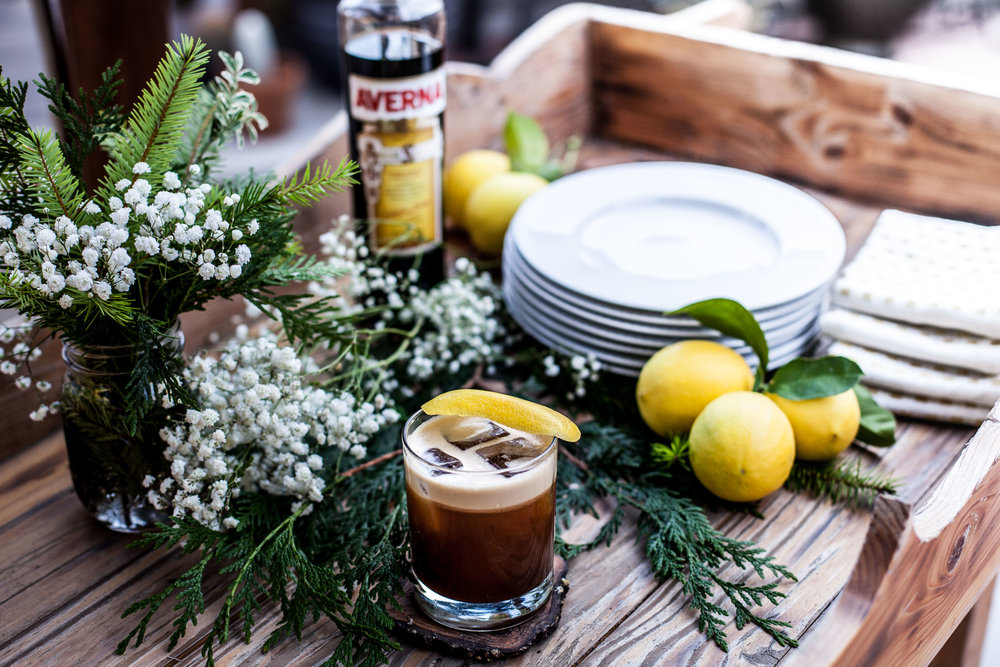 print recipe
Amaro Sour Cocktailby Brad Thomas Parsons (Original Recipe from "Amaro") Fresh citrus and sweet bourbon are made complex and earthy with the bitter-sweet addition of amaro (in this recipe, we use Averna). The egg white makes for a creamy, delightfully foamy finish. Ingredients
1.5 oz

Averna (or other medium-bodied Amaro)

.75 oz

Bourbon Whiskey

1 oz

Fresh Lemon Juice

.25 oz

Simple Syrup

1

Fresh Egg White

1

Lemon Twist

1 pinch

Fresh Grated Nutmeg
InstructionsCombine all ingredients except the lemon twist and nutmeg in a shaker tin and dry shake for at least 10 seconds (shake without ice). This serves to incorporate the egg white into the rest of the ingredients, and helps to create that beautiful frothy foam and smooth texture. Add ice to the shaker, shake to chill, then strain into an Old Fashioned / Rocks glass filled with ice. Garnish with a lemon peel, lemon zest, or (our personal favorite) nutmeg for a nice bright touch on a sunny winter day.DetailsPrep time: 5 mins Cook time: 1 mins Total time: 6 mins Yield: 1 cocktail