Grasping at straws. Draw the short straw. The straw that broke the camel's back. There are as many idioms about straws as there are alternatives to the drinking conduit that shares its name. As bars, cities, and countries continue to institute bans on single-use plastic, eco-friendly options keep popping up that won't junk up our oceans. But which should you stock at your bar? We evaluate four styles to figure out the last straw on straws.
1:

 

AARDVARK PAPER STRAWS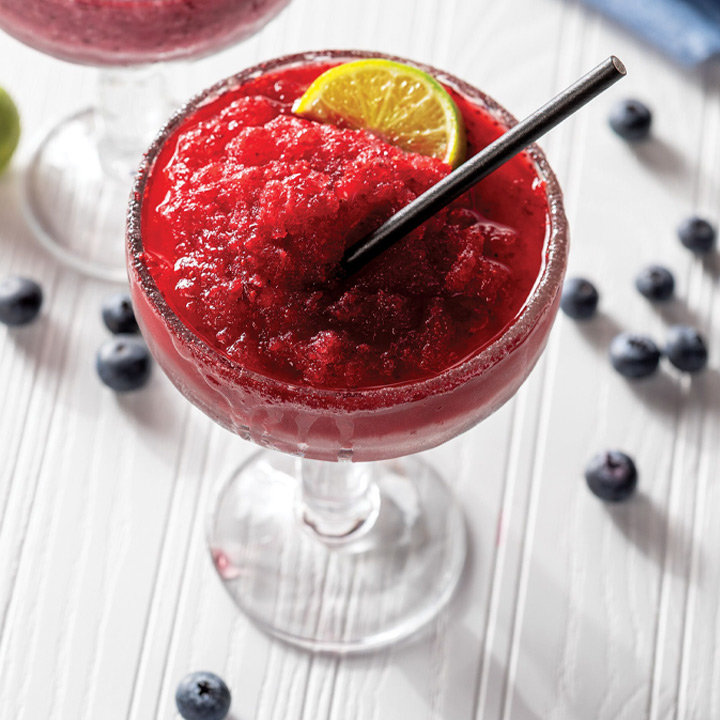 There's no shortage of cardboard straws on the market, which run the gamut from strong to soggy once they have a soak in your Paloma. But this manufacturer is the only paper straw company that's approved by the FDA and EU. They're made from natural cellulose paper and include 33% more material than competitors, which results in them holding their shape for two to three hours before falling apart. They're also free of chemicals, GMO ingredients, known allergens, and beeswax. The straws will decompose in 30 to 60 days in a landfill and in six months in a marine environment. For this reason, the manufacturer sees them as a more viable alternative to bio-plastic straws. Aardvark carries lots of options, from cocktail and eco flex to different colors, stripes, and ones printed with a company name or logo.
Pros: Cost-effective, biodegradable, compostable; lots of different style and size options
Cons: Can't be used for hot beverages; single-use
Price: Varies depending on style and number purchased; $317 for 7,000 5.75-inch white cocktail straws
2:

 

BALI BOO BAMBOO STRAWS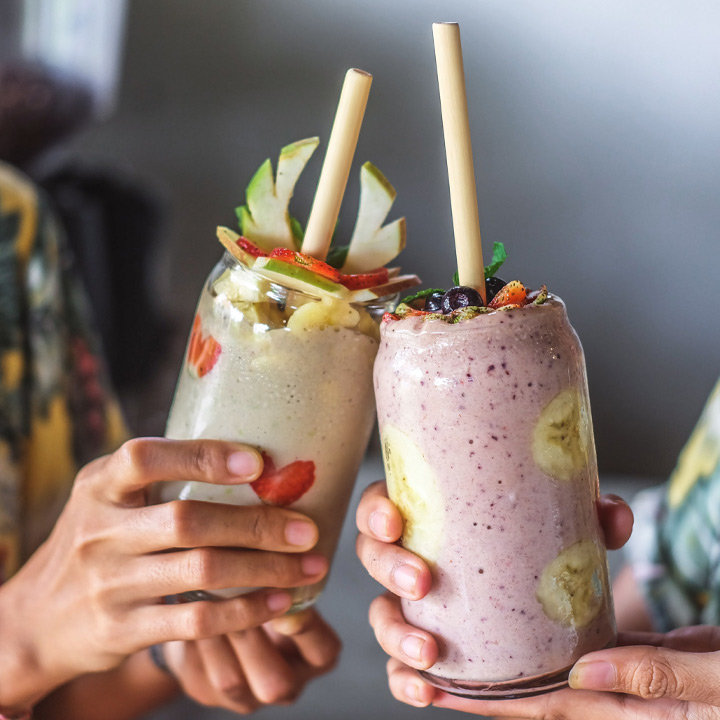 Buluh bamboo from the mountains of northern Bali is harvested sustainably and organically for these straws. "Bamboo is the most sustainable plant on the planet," says Diego Morodo, the co-founder of Bali Boo. "It grows in abundance without the need for irrigation, fumigation or any other type of chemical." Only what's needed is removed so the plant can continue to grow (up to a staggering rate of three feet per day). They're dried in the sun, hand-cut to exactly eight inches and polished so they sip clean and smoothly. Finally, they're boiled for 40 minutes in vinegar and water to disinfect them, sun-dried again and packaged in recycled cartons. The straws are biodegradable but are also strong enough to be reused many times after being hand-washed with the included brushes, cleaned in the dishwasher or boiled for 10 minutes in water and vinegar. A package includes diameters of various sizes from 6 to 11 millimeters to accommodate cocktails, smoothies, and milkshakes, and the straws won't interact with ingredients.
Pros: Biodegradable, strong, reusable, suitable for hot and cold beverages
Cons: Depending on thickness and ingredients of drinks, the dishwasher might not completely clean them; package includes several diameter sizes by default, so appearance isn't consistent; only one length currently available, which is a bit pricey
Price: $16 for 12 8-inch straws with 2 cleaning brushes and 1 cotton pouch
3:

 

HAY! STRAWS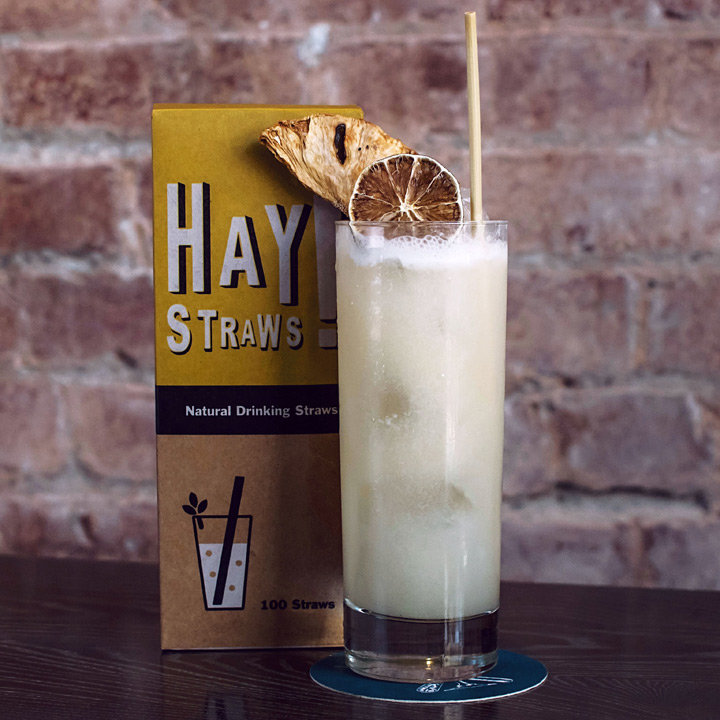 You might wonder why hay straws haven't already become the most widespread alternatives to plastic in the cocktail world. Hay! founders Gilmar Arellano, Emma Grose, and Alexey Savin launched their company in 2018 with what they call a "simple approach to effect necessary change." Hay is hand-selected from small farmers, minimally processed and packaged in eco-friendly, unbleached craft boxes printed with soy ink. One pound of hay yields around 1,000 biodegradable straws that break down within two to four months. "Nothing on the market—not metal, bamboo, bioplastic—could hold up to the surprising amount of forces a plastic straw does—not until we found hay," says Arellano. "It never gets soggy whether in a hot or cold beverage for minutes or hours." Keep an eye out for their soon-to-be-released jumbo collection, which includes boba straws. 
Pros: Completely biodegradable, strong, can be used in hot or cold beverages, gluten-free
Cons: Only one length and natural color currently available
Price: $7 for 100-pack, $30 for 500-pack.
4:

 

ECO AT HEART STAINLESS STEEL STRAWS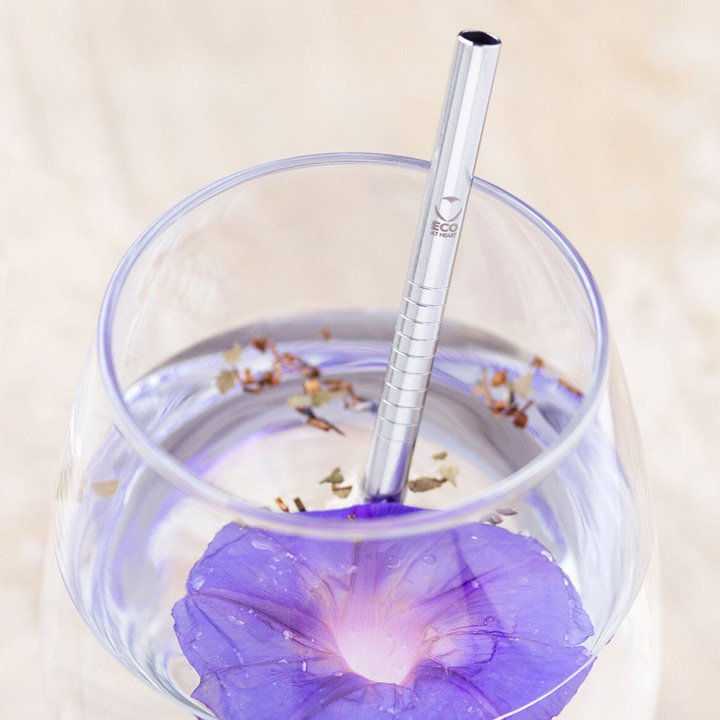 Seeing the beaches of Bali littered with single-use plastics during their first trip there in 2014 stirred the founders of this company to make a difference on a global scale. (Indonesia is second only to China as the largest contributor of plastics in the ocean in the world.) Since late 2015 Eco at Heart has offered five different sizes of straws: extra-long smoothie, original smoothie, bent smoothie, short and juice. The latter two are recommended for cocktails. All are made with 18/8 food-grade stainless steel so they won't leave you with a metallic aftertaste. And they're 100% BPA-free. Each pack includes a straw brush for hand-washing, or they can be popped into the dishwasher. 
Pros: Reusable, dishwasher-safe, several different sizes and widths available
Cons: Washing can be time-consuming; depending on thickness and ingredients of drinks, the dishwasher might not completely clean them; more expensive than other options; can feel hard on teeth
Price: $16 for 5 straws
Please follow and like us: