America loves Margaritas. The tangy mix of tequila, fresh lime, and triple sec has been our No. 1 drink since 2016, according to Nielsen surveys. We love Margaritas so much, in fact, we'll happily pay extra for them.
Naturally, Margaritas are available everywhere from somber craft cocktail bars to casual dining chains. Chili's Grill & Bar boasts a 14-strong Margarita menu, including a revolving, monthly $5 Margarita special. Meanwhile, sales of Applebee's $1 cocktail deals, which started with the infamous "Dollarita" in October 2017, not only helped the chain buck a casual dining slump, they drove 43 weeks of consecutive sales growth. Even Olive Garden, the Italian family dining chain, offers its own version of the Mexican cocktail.
But just how good are these iterations? Is their success a product of cost and convenience, or are these national chains just as adept at slinging the nation's favorite cocktail as mixologists at high-end cocktail bars?
"[A Margarita] should be tart, it should taste like lime and like citrus (which is why you use Cointreau), and it should taste earthy, like tequila," Ivy Mix, co-owner of Leyenda in Brooklyn, N.Y., says. According to the self-professed "tequila and mezcal lady," there's absolutely no substitute for Cointreau in the mix. "If you use simple syrup," she says, "it's just a glorified Daiquiri."
Some bars may swap out the tequila for mezcal, though, adding a smoky element to the drink. But regardless of which agave spirit you use, "it must be 100 percent agave," Gary Wallach, director of food and beverage for Arlo Hotels, tells VinePair. "Agave is like wine," Wallach explains, "so the best Margaritas balance the true terroir of the agave used, while using just enough sugar and citrus to give it a refreshing and light flavor."
Armed with this guidance, we assembled a team of Margarita enthusiasts to help sample and rank what each national casual-dining chain had to offer.
Those tasked with joining this writer for the crawl included Jeff Licciardello, VinePair's director of marketing and lover of every form and flavor of Margarita. VinePair columnist Aaron Goldfarb, whose fondness for casual-dining-chain cocktails is well-documented, was also on hand, as was politics editor from the Daily Dot, David Covucci, because who needs eight successive Margaritas more than someone who reports on our current political landscape for a living?
Our process was simple: We entered each national dining chain, asked the bartender for whatever they deemed their location's "flagship Margarita," and individually scored the drink based on presentation, balance of flavors, and value for money. After we'd tasted and scored them all, we averaged them to determine the final ranking.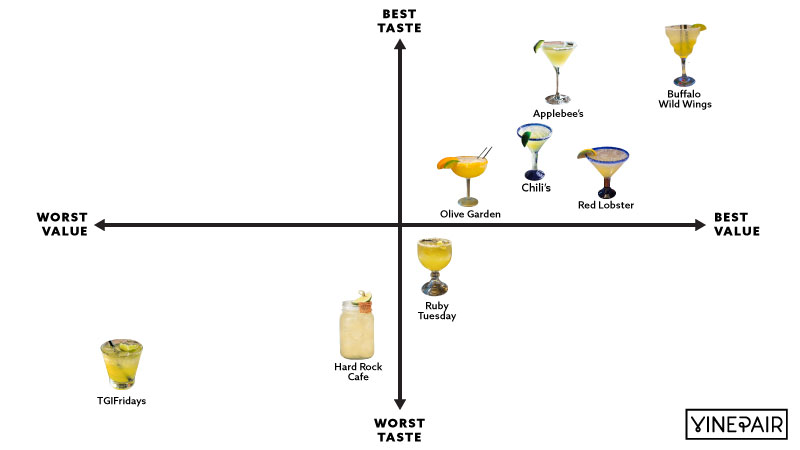 8. TGI Fridays
Called the "Best Fridays Margarita" (BFM), this $16.32 (after tax) cocktail was one of the two most expensive Margaritas we sampled. Visually, it was uninviting, with a few specks of salt crusted onto an oversized rocks glass. The drink gained a few points for including Patrón and fresh lime juice, but the balance was off-kilter, with not enough sweetness and far too much booze. If the BFM is, indeed, the best Margarita TGIF has to offer, we won't be returning any time soon. Average score: 8/25
7. Hard Rock Café
Upon descending into the basement bar of the Times Square Hard Rock Café, we had high hopes. Our bartender whipped up the drink with the briskness of a Led Zeppelin guitar solo, and, at $12.79 after tax, it was one of the cheapest Margaritas we encountered. Unfortunately, the inclusion of both Cointreau and Grand Marnier meant the quality tequila — Tres Generaciones Plata — got lost in the mix, which tasted like boozy orange juice. Average score: 11/25
6. Ruby Tuesday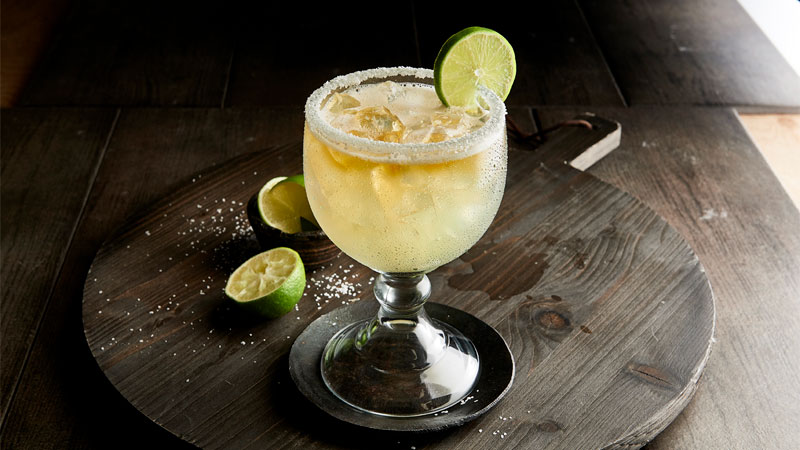 Ruby Tuesday's "Top Shelf Traditional Margarita" blends Casamigos Blanco with triple sec and something called "fresh lime sour," and tops it with a Grand Marnier float. Unlike Hard Rock's Margarita, this chain manages to strike a nice balance between the sweet, orange-flavored liqueur, and the citrus and tequila, though some tasters felt it was ultimately lacking in acidity. It might not be an issue if you're only drinking one, but would definitely lead to struggles if you order a second or make the first one "large" for an extra $1. Average score: 14/25
5. Olive Garden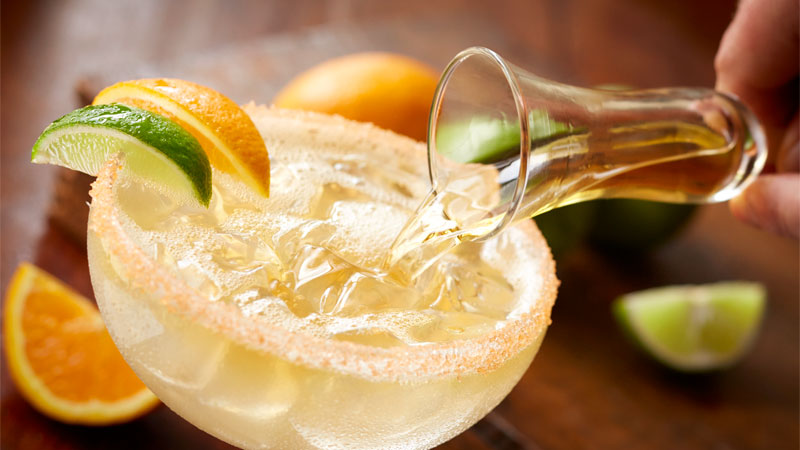 Olive Garden's Italian Margarita was polarizing. The non-traditional recipe swaps out half the sour mix for orange juice, and the cocktail is finished with a pour of Amaretto. Most of the tasters felt there was sufficient acidity to balance the sweet ingredients, however, and everyone agreed the orange and lime garnish, and orange-salt-rimmed glass, made the drink look appealing. At close to 16 ounces for $11.74, the drink also offers fantastic value. Average score: 14.5/25
4. Red Lobster
Combining Sauza tequila, Grand Marnier, and sour mix, Red Lobster's Margarita is greater than the sum of its parts. Our team of four ordered the 24-ounce "Lobsterita" pour, which was ours for a barely believable $14.58. A solid, if slightly bland Margarita, the drink was balanced and just missed falling in our top three. Average score: 15/25
3. Chili's Grill & Bar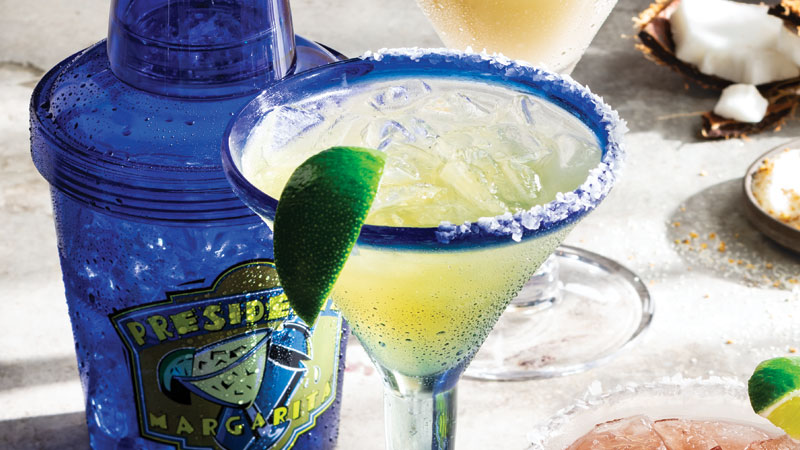 Chili's sells over 22 million Margaritas per year, making it the largest purchaser of tequila in the United States, according to a brand representative. Over 7 million of those Margs are its flagship "Presidente," a sweet, boozy blend of Sauza Conmemorativo, Patrón Citrónge orange liqueur, E&J brandy, and a proprietary sweet and sour mix. The drink arrives in a signature plastic blue shaker, but skewed slightly too sweet for our tasters, and a little brandy-heavy. Average score: 15.5/25
2. Applebee's Neighborhood Grill & Bar
Applebee's "Perfect Margarita" ups the presentation ante, arriving in a stainless steel Boston shaker complete with Hawthorne strainer. Inside are two-and-a-half cocktails' worth of 1800 tequila, Grand Marnier, sour mix, fresh lime, and a sweetener we're told is called "bar syrup." Top marks for presentation, including the unexpected coconut salt rim on the accompanying Martini glass, but the combined sweetness of Grand Marnier and the so-called bar syrup held this drink back from clinching top spot. A worthy $16.32 effort, nonetheless. Average score: 16/25
1. Buffalo Wild Wings
B-Dubs may be better known for its impressive craft beer selection, but the chain is equally adept at blending impressive Margaritas. The winning "Platinum Margarita" combines Patrón, Grand Marnier, and sour mix, and serves it on the rocks. Tasters were impressed by the drink's balance, and everyone agreed they could happily enjoy multiple glasses without things tasting too sweet. Our bartender Venus told us that in two years of working at Buffalo Wild Wings, she'd never had a single drink sent back to her. We can see why. Average score: 16.5/25
The article A Power Ranking of the Best and Worst Margaritas at Every Major Chain Restaurant appeared first on VinePair.
Please follow and like us: