How many times have you perused the pages of a cocktail book, hankering for something new and different, only to find you're missing one or more key ingredients from your home bar? Or the only thing you're missing is a $70 bottle of liqueur that's just not in this week's budget (why is the Chartreuse always gone?!?)?
With fancy-pants cocktails all the rage, it's easy to get lost in the long lists of craft spirits, specialty syrups and obscure liqueurs, to the point of abandoning the quest for a cocktail altogether and just cracking open a beer. Don't forget, you guys, that sometimes simple is best, especially when you're trying to rest!
So in honor of Labor Day, when you're supposed to put your feet up for a bit, here are some great cocktails to try that won't take long to make. If you've got a little home bar set up and keep fresh citrus on hand, you probably could go make one RIGHT NOW with what you have at home! We've even sorted them into spirits categories, so you can pick your poison and get right to it.
DISCLAIMER – I know I said these would be 2-ingredient cocktails, but I've got some here that are technically 3 ingredients. However, I made sure the 3rd ingredient was a SUPER SIMPLE staple bar ingredient, like Angostura bitters or simple syrup (which you can easily make, by the way, by mixing water and sugar in a 1:1 ratio).
Ok, have at it!
GIN & VODKA COCKTAILS with 2 or 3 INGREDIENTS:
Greyhound – Gin or Vodka Cocktail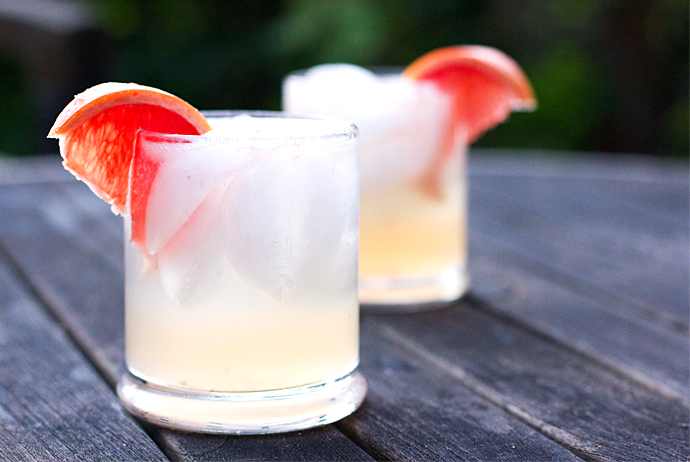 Greyhound Cocktail – Photo: KitchenKonfidence
2 oz Gin (or Vodka)

6-8 oz Grapefruit Juice (how strong do you want it?!)
The original Greyhound recipe in The Savoy Cocktail Book (1930) called for gin, grapefruit juice, and ice. But in 1945 a recipe was published in Harper's magazine by the same name that called for vodka, sugar, and grapefruit juice. So sweeten it up with some simple syrup if you'd like, but be sure to serve it on ice!
Martini (Duh! Our Favorite!) – Gin or Vodka Cocktail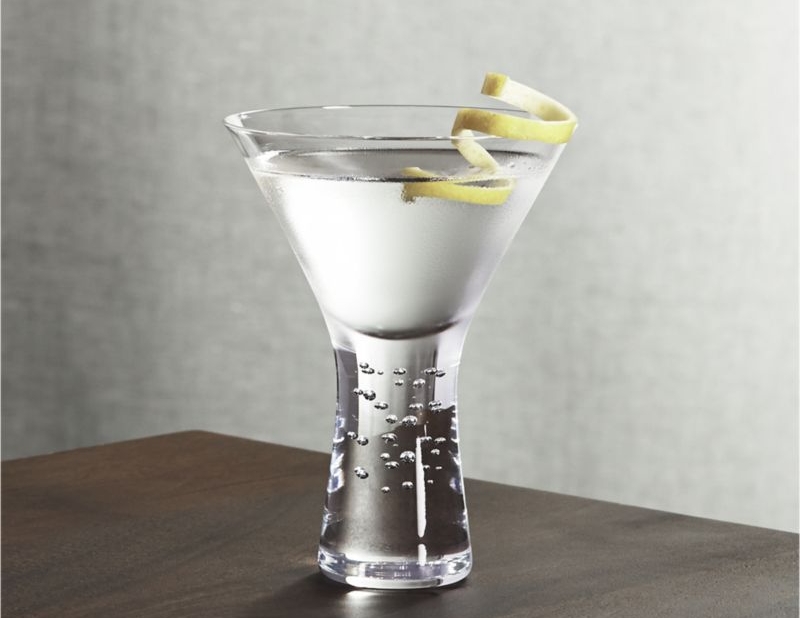 Martini Cocktail – Photo: Crate & Barrel
2 oz Gin (or Vodka)

1 oz Dry Vermouth
We like it a little boozier with a 2:1 ratio of gin to vermouth, but feel free to play with the proportions. Fancy it up with orange bitters, olive juice, or (our favorite) onion brine to make a Gibson.
Gin (or Vodka) Gimlet Cocktail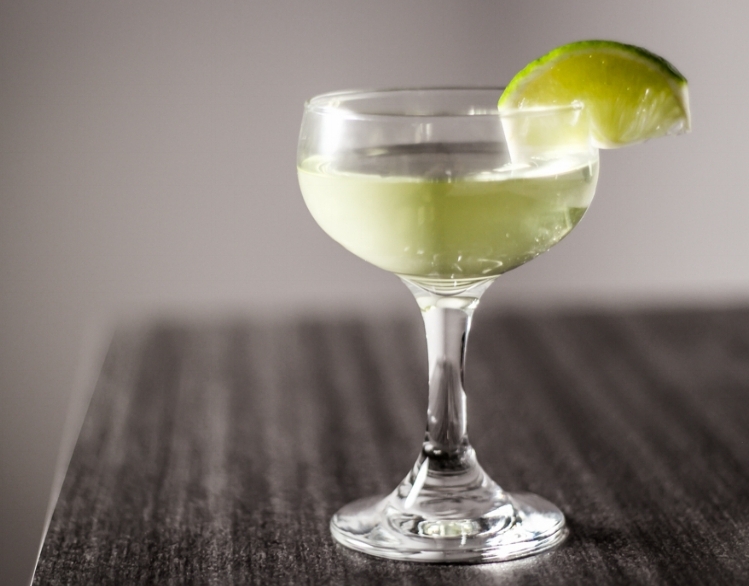 Gimlet Cocktail – Photo: FMMS.net
2 oz Gin (or Vodka)

0.5 oz Rose's Lime Juice (or use 0.5 oz fresh lime juice + 0.5 oz simple syrup, 0.25 oz simple if you like it less sweet like me)
Ok, there are quite a few variations on this drink, so play with it! Traditionally the gimlet is made with Rose's Lime Juice, which is a sweetened lime juice concoction. We prefer the fresher version without artificial ingredients, but if you've got Rose's on hand, by all means! If you don't have simple syrup, make some (it's just equal parts sugar and water!). For an overview of the variations, check out this WIKI.
Black Russian – Vodka Cocktail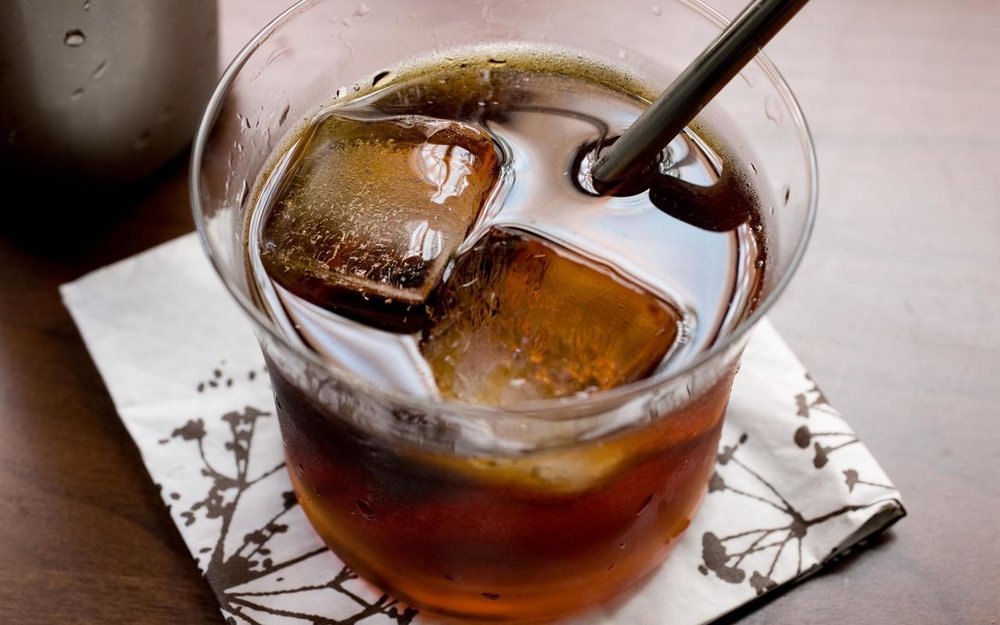 Black Russian Cocktail – Photo: Chowhound
2 oz Vodka

1 oz Coffee Liqueur, such as Kalua
Dating back to 1949, the Black Russian is just vodka and coffee liqueur. For a drier cocktail, increase the vodka, and for a sweeter cocktail, add more coffee liqueur. Try replacing the Kalua with other liqueurs like Jägermeister, which some people call the Vader Cocktail.
Gin & Tonic (or Vodka & Tonic) Cocktail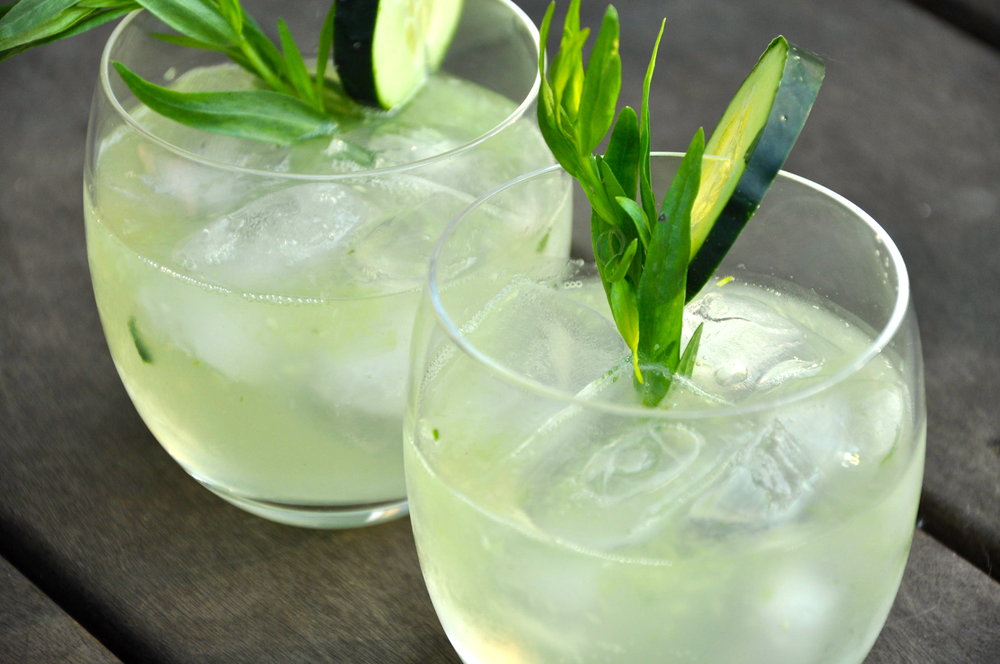 Gin & Tonic (Vodka & Tonic) Cocktail – Photo: RecipeHubs
2 oz Gin (or Vodka)

6 oz Tonic Water (or to fill)
Can't leave out this staple! Use more or less tonic water to your taste — even sub some of the tonic for soda water if you want less of the sweet, quinine taste. Tastes great with a squeeze of lime. Want to dress things up? Pick up some fancy artisnal tonic water, or try tonic syrup with soda water to cater to your taste for tonic. Pick any third ingredient to muddle with and/or garnish: cucumber, thyme, tarragon, lavender basil, rosemary… what have you got in your garden?
---
TEQUILA COCKTAILS with 2 or 3 INGREDIENTS:
Paloma – Tequila Cocktail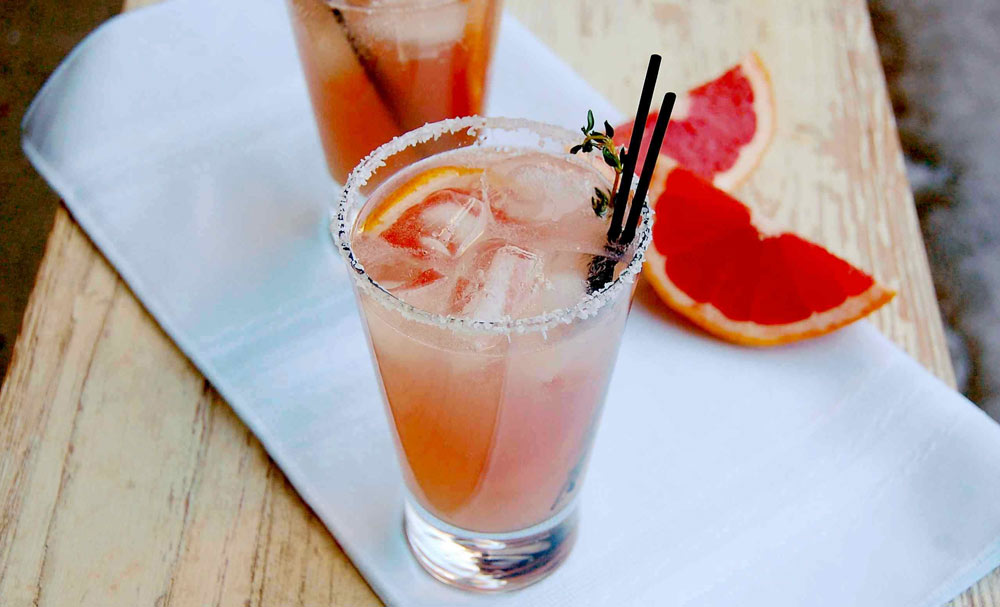 Paloma Cocktail – Photo: Nosh On It
2 oz Tequila

2 oz Grapefruit Soda (like Fresca)

0.5 oz lime juice (omit this for the really easy version!)
Fancy it up with juice from 1/2 a lime, or rim the glass with salt (then it's called a Salty Dog). Think of the Paloma as the Margarita's refreshing, bubbly cousin. No Fresca? It's not the easy way out, but it might be the most delicious thing you've ever had — You can make Grapefruit soda by mixing 1 oz grapefruit juice with 2 oz soda/sparkling water and 1/4 oz simple syrup.
Minimalist Margarita – Tequila Cocktail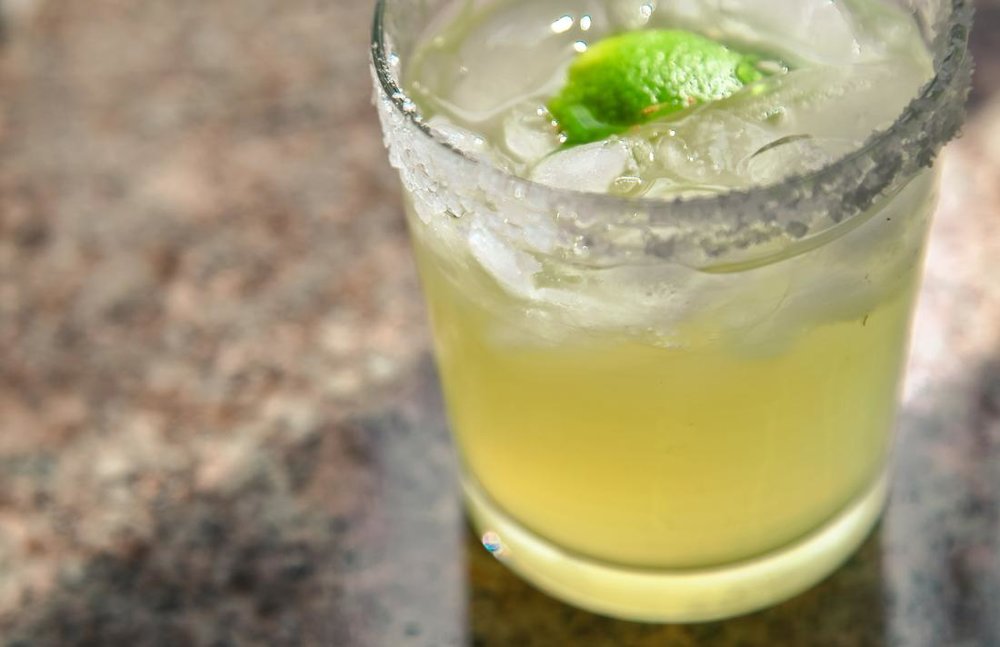 Minimalist Margarita – Photo: Carolyn Laguttuta
2 oz Tequila

1 oz fresh lime juice

0.75 oz agave syrup (or 0.5 oz simple syrup)
Yes, technically a margarita is made with triple-sec (Cointreau is a popular brand), an orange liqueur that sweetens the drink up. But there are good reasons to skip the triple-sec and keep it simple with just tequila, lime, and some sweet. Orange liqueur can distract from tasting a really yummy tequila, and Cointreau can be very expensive, while cheaper brands of triple-sec are just… well… cheap and gross. This minimalist margarita is just like a Classic Daiquiri, but with tequila instead of lime. Try it — you'll LOVE it!
Tequila or Mezcal Old Fashioned Cocktail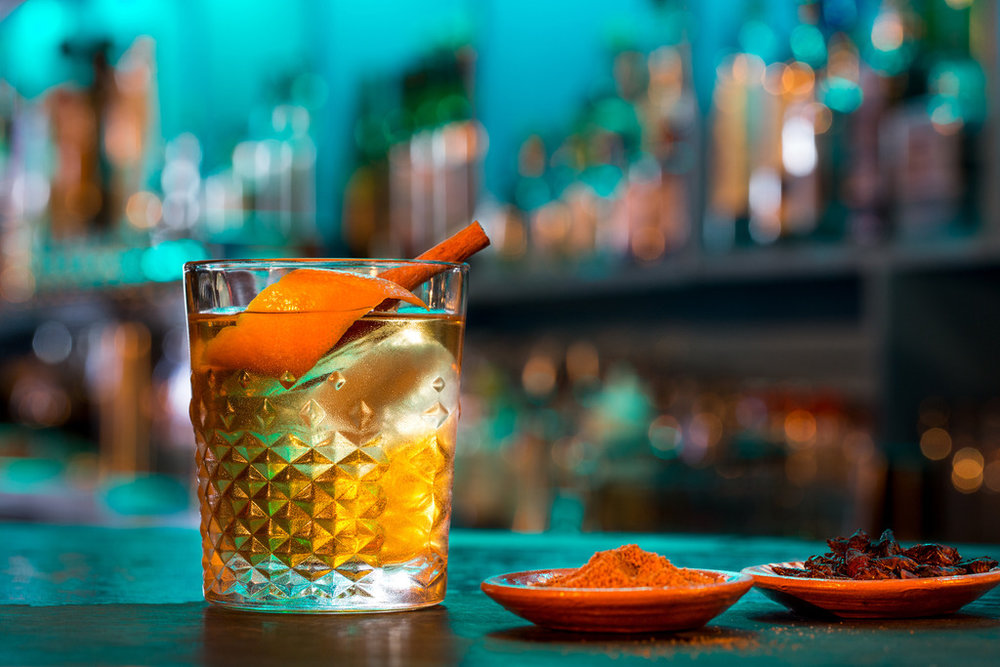 Tequila / Mezcal Old Fashioned – Photo: Clandestino
3 oz Tequila (use an aged tequila like Reposado or, even better, Anejo for fuller flavor)

0.5 oz Agave syrup (or 0.25 simple syrup, if that's what you have)

a few dashes Angostura bitters
Take your Old Fashioned south of the border by swapping out the bourbon for tequila. An aged anejo tequila will impart more flavor, and if you really want to smoke things up a bit, use a split base with mezcal (2 oz tequila, 1 oz mezcal).
---
WHISKEY COCKTAILS with 2 or 3 INGREDIENTS
Whiskey Ginger Cocktail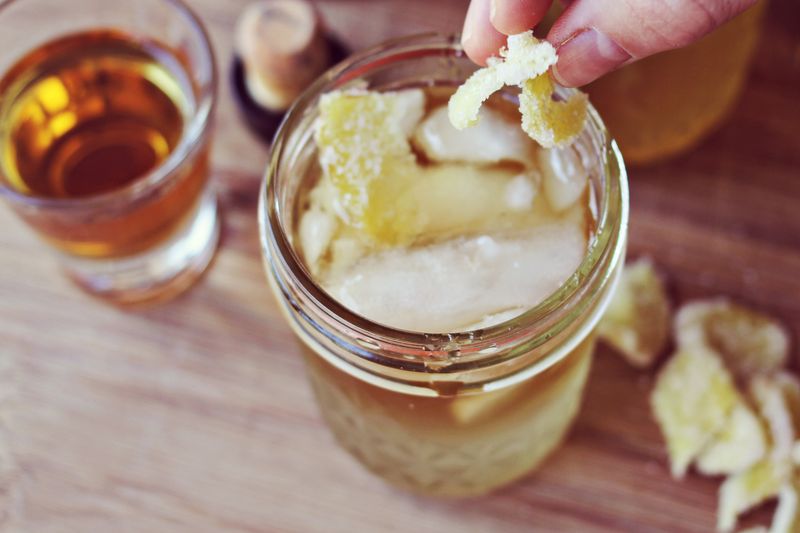 Whiskey Ginger Cocktail – Photo: A Beautiful Mess
1.5 oz Rye Whiskey (or Bourbon)

6-8 oz Ginger Ale (how strong do you want it?)
This is just a highball cocktail made with Rye Whiskey. Use Bourbon if you like Bourbon. Heck, use Irish Whiskey if that's what you've got. You guys, this can be really simple! Add a squeeze of fresh lime juice if you have it, or not. Garnish with an orange wheel if you want, candied ginger if you want to be super fancy — or not. Play.
Manhattan (and Black Manhattan) – Rye Whiskey Cocktail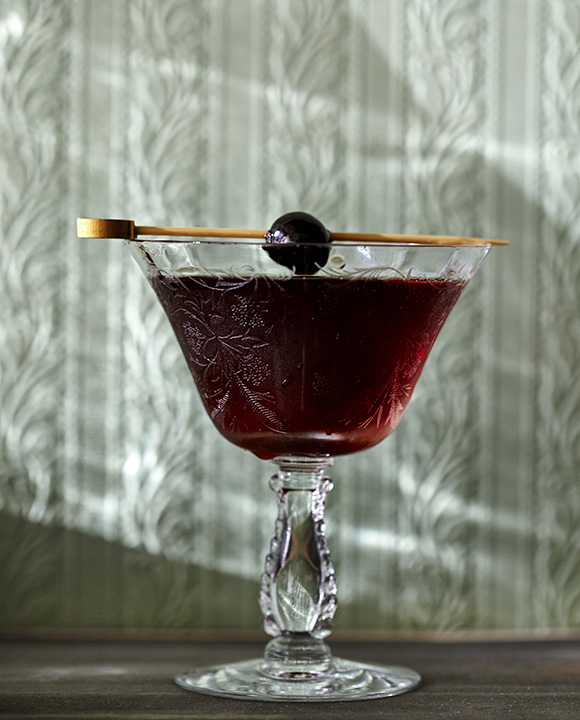 Black Manhattan Cocktail – Photo: Imbibe
2 oz Rye Whiskey

1 oz sweet vermouth (or Averna for a Black Manhattan)

2 dashes Angostura bitters
The Manhattan is a classic, and incredibly simple. Had no idea the Manhattan was so simple? It's one of the easiest, and most delicious classics you can make. Use Averna instead of vermouth for a Black Manhattan (the original recipe by Todd Smith calls for 1 dash of Angostura, and 1 dash or orange bitters)
---
PRO-TIP: When to STIR and when to SHAKE
Hammered Mixing Glass – $35
STIR a cocktail when it contains only clear spirits or liqueurs, like the Manhattan and Old Fashioned Cocktails. You'll need a Mixing Glass and barspoon for that.
SHAKE a cocktail when it contains juices, dairy, egg, or other non-clear ingredients. You'll need a set of shaking tins, or a boston shaker for that.
Shop Barware
For either case, make sure you have ice, a strainer, and a glass to serve your cocktail in – whether on the rocks (with ice) or up (without).
You can find some pretty great cocktail tools, including this gorgeous Mixing Glass over at the Standard Spoon Store
---
Mint Julep – Bourbon Cocktail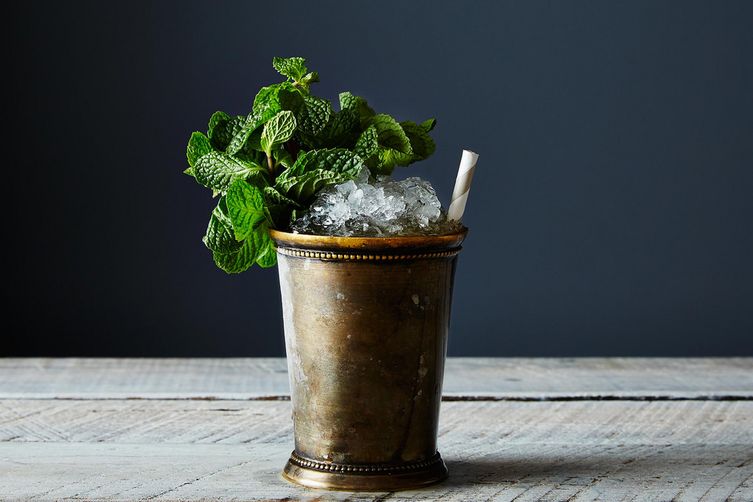 Mint Julep Cocktail – Photo: Food 52
3 oz Bourbon

10 spearmint leaves (plus a giant bunch for a big fancy garnish — OPTIONAL 😉

0.75 oz simple syrup
It looks really fancy, but it's really, really simple. The trick to this cocktail is crushing some ice – you'll want smaller ice bits for this drink to aid with a nice dilution over the time you're drinking it – otherwise it will be WAY too boozy. Check out Home Bar Basics for the step-by-step instructions.
Old Fashioned – Whiskey Cocktail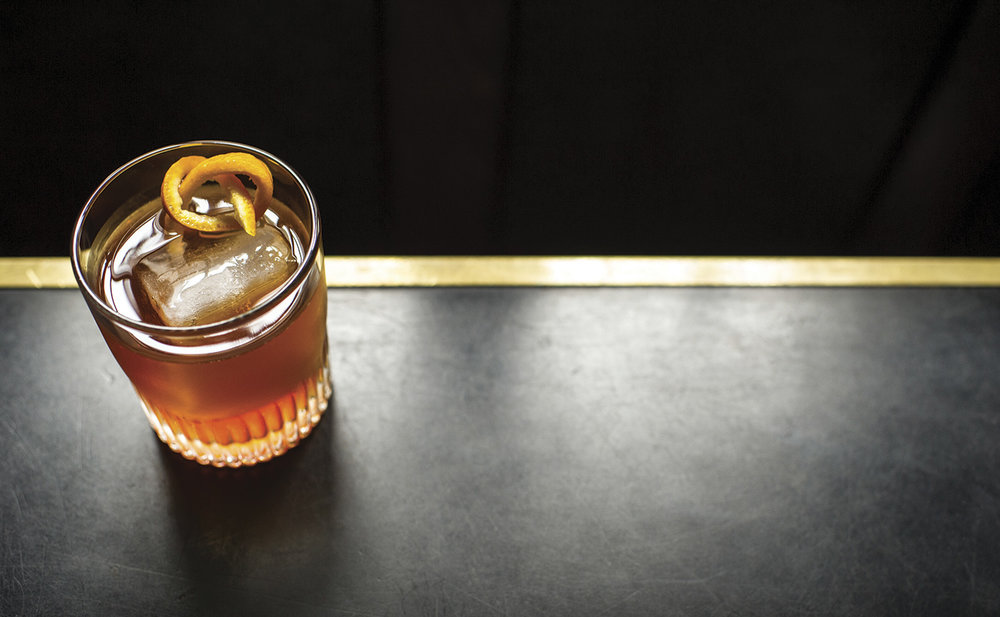 Old Fashioned Cocktail – Photo: Punch Drink
2 oz Bourbon

0.25 – 0.5 oz simple syrup

a few dashes of Angostura bitters
Boozy, dark, and delicious – this staple cocktail of the craft classics is easy to mess up if you don't know where to get your recipe from. DO NOT muddle bright red fake cherries in the bottom. DO NOT top with soda water or any kind of bubbly drink. DO garnish with an orange peel if you've got it – it's great for the olfactory experience of the drink. Please keep the Old Fashioned simple, the way it's supposed to be, and you won't be disappointed.
---
RUM COCKTAILS with 2 or 3 INGREDIENTS
Classic Daiquiri – Rum Cocktail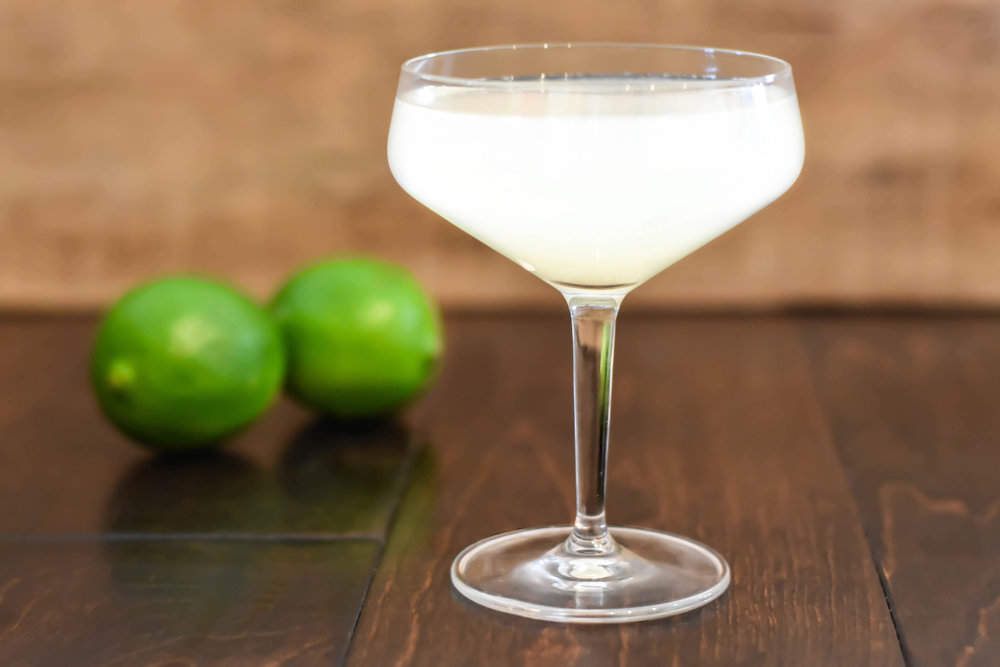 Daiquiri – Photo: Professor Cocktail
2 oz light rum

1 oz lime juice

0.75 oz simple syrup
Our favorite drink of the year this summer – the classic Daiquiri, also spelled D-E-L-I-C-I-O-U-S. Works well also with gold rum.
Dark & Stormy – Rum Cocktail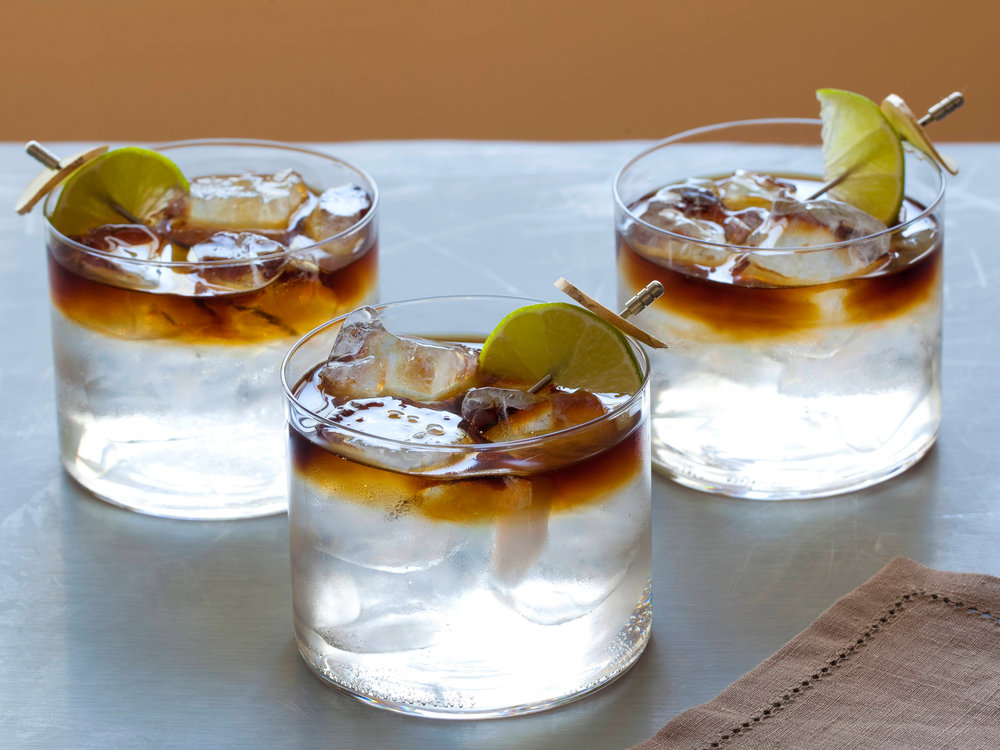 Dark & Stormy Cocktail – Photo: Food Network
2 oz dark rum

4-6 oz ginger beer
Really, you can use any rum you like – black rum and spiced rum work well also if you've got those on hand. Ginger beer isn't typically alcoholic, but it does have a stronger ginger spiciness to it than ginger soda. But if you don't have it on hand, go for ginger ale and you'll have a sweeter, tamer version.
Rum & Coke / Cuba Libre Cocktail
Cuba Libre – Photo: Bacardi
Basically a Dark & Stormy cocktail, but with Coke instead of Ginger Beer. The Rum & Coke is a simple version of the Cuba Libre, so if you usually drink a Rum & Coke, but are hankering for a fancier version, add some gin, lime, and bitters for the next level up (Cuba Libre Recipe at Home Bar Basics)
Rum Old Fashioned Cocktail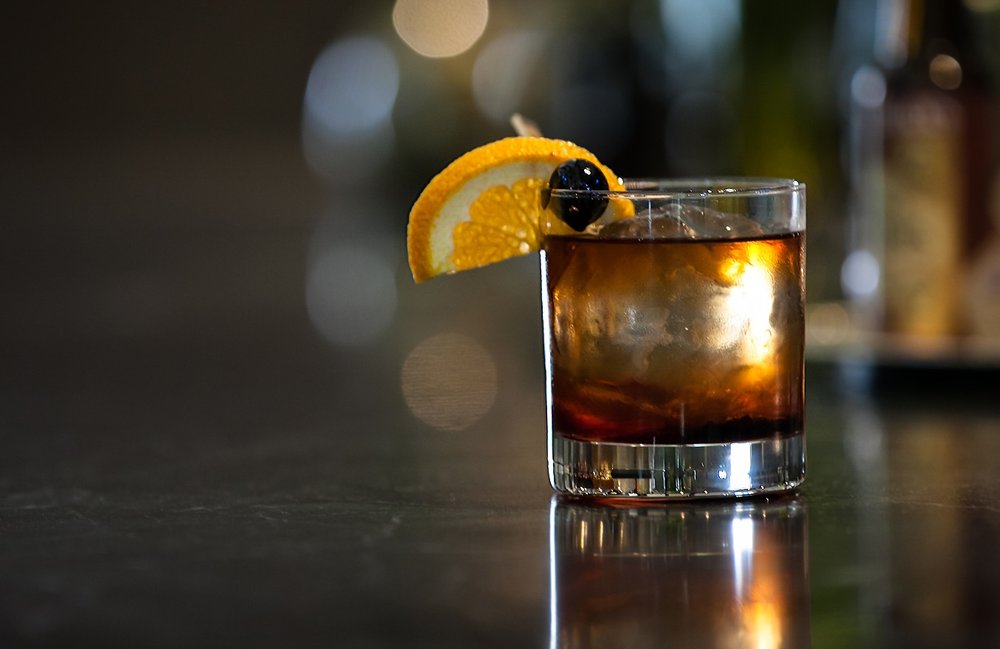 Rum Old Fashioned – Photo: Booze News
2 oz Rum (dark, black, or spiced rum)

a few dashes Angostura bitters

0.25 – 0.5 oz simple syrup
If you can make a Tequila Old Fashioned, why not a Rum Old Fashioned? That's what we said, anyway… for the rum lover who's tired of tiki and doesn't want something "light and refreshing," go direct with this drink. We like using spiced rum for that warm, autumnal feel that pairs well with a dark boozy cocktail. Many Rum Old Fashioned recipes call for a split-base, using two or even three different rums together to add complexity. It's all up to you! Feel free to experiment with the sweet as well, using Demerara sugar to make simple syrup, or even adding a touch of molasses, which complements rum flavors superbly.
---
BUBBLY & ETC – COCKTAILS with 2 or 3 INGREDIENTS
Bellini – Sparkling Fruit Cocktails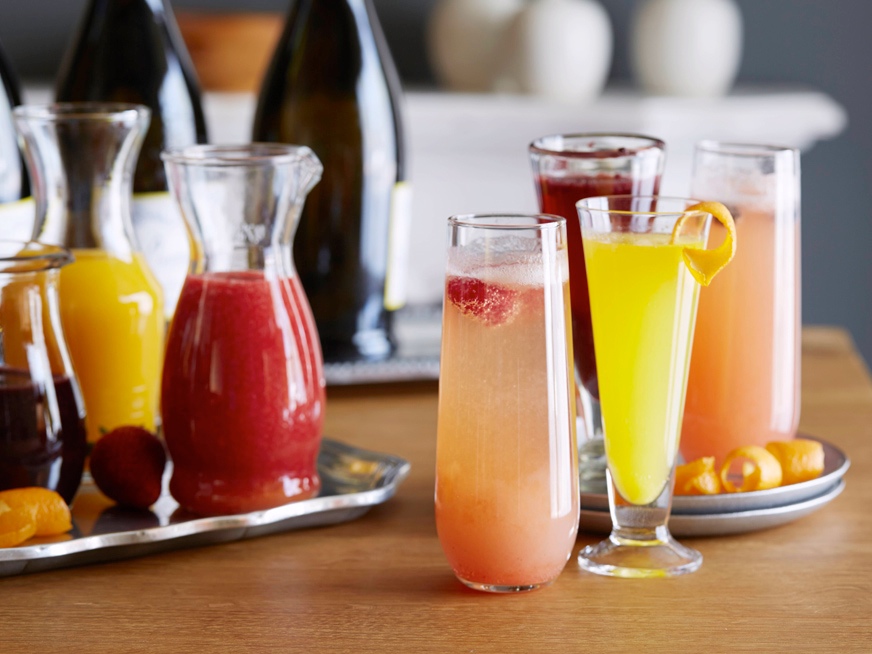 Bellini – Photo: The Food Network
2 oz fruit puree (peach, passion fruit, strawberry… endless possibilities!)

3 oz prosecco
Fruit Puree? That sounds like a lot of work. Ok, maybe it is. But those of you with Magic Bullets and immersion blenders should RELISH the opportunity to use the machine! Traditionally Bellini's are made with peach puree, but dare I say to use whatever you've got? Might I also suggest that if you don't keep prosecco on hand, just use whatever champagne or sparkling wine you can get your mits on? C'mon– this is supposed to be fun!
Mimosa – Champagne Cocktail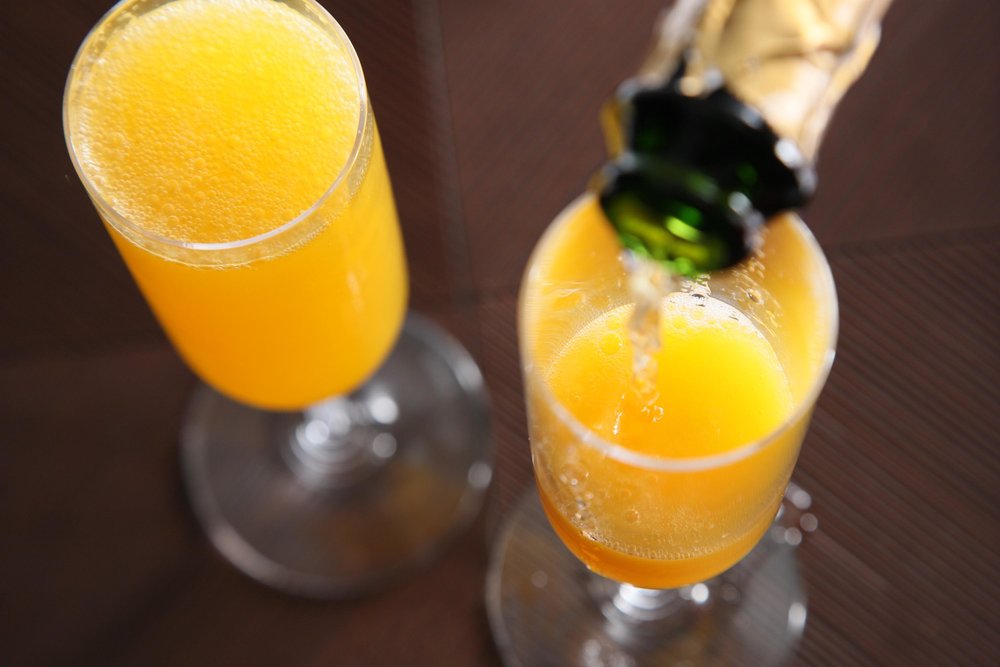 Mimosa – Photo: Chowhound
4ish oz Champagne or Sparkling Wine

2 oz Orange Juice
Ok, we should all know this one. Champagne and orange juice! We recommend fresh-squeezed orange juice for flavor. Got grapefruit? Blood Oranges? Why not? Mix Champers with whatever you have on hand, and it should be pretty delicious. Add 1/2 oz Cointreau if you want to be a fancy-pants.
Aperol Spritz Apertif Cocktail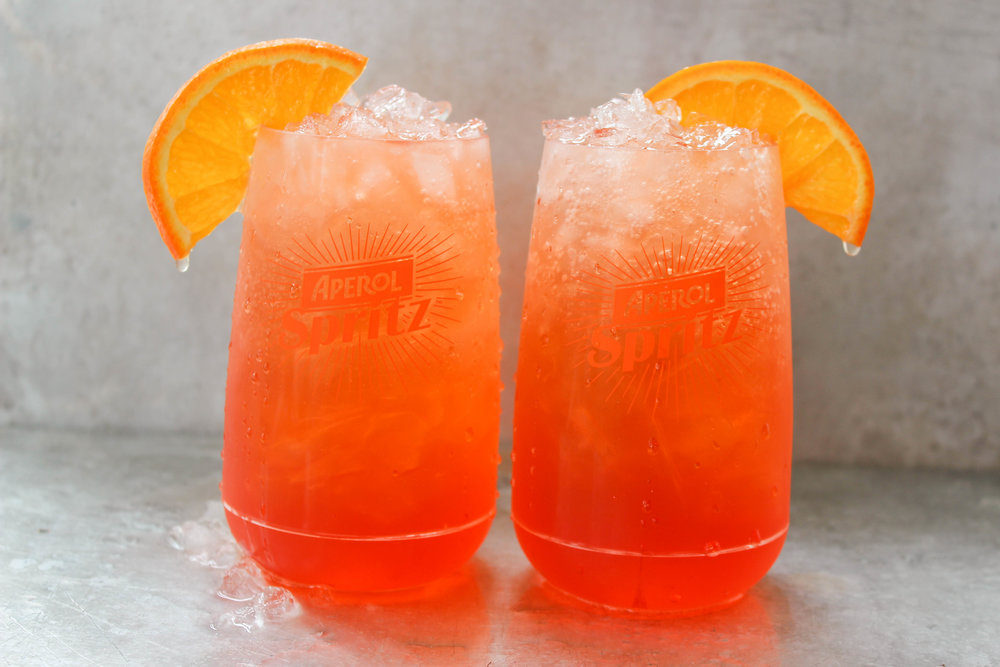 Aperol Spritz Cocktail – Photo: Beautiful Booze
2 oz Aperol

3 oz soda water – or use prosecco or other sparkling wine for a bit more of a kick!
Aperol is an Italian apertif similar to Campari, but a little lighter and sweeter. It's perfect mixed as 2 parts Aperol with 3 parts soda water, or switch out the soda for some bubbly! Extremely light and refreshing, this is delicious for an afternoon refreshment, or with appetizers before a summer meal. Pairs well with a garden setting.
Garibaldi – Campari Cocktail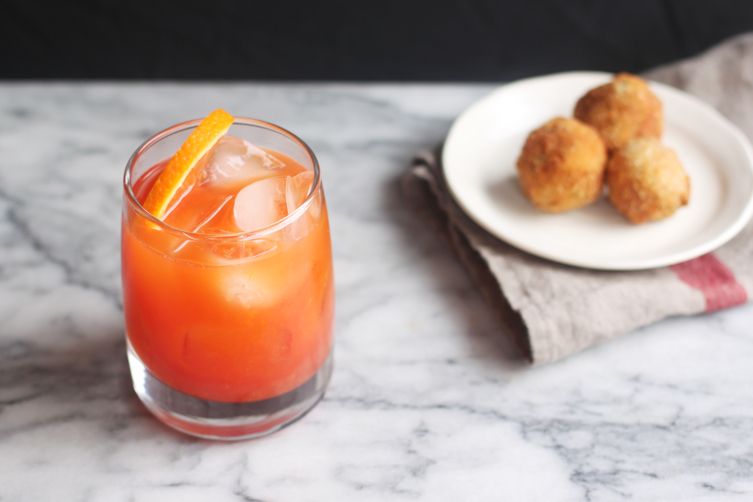 Garibaldi – Photo: Food52
1.5 oz Campari

4.5 oz fresh orange juice (about one orange)
It's simple, delicious, and a perfect appertivo for your late lunch of BLT's and/or Pizza. We prefer a one-to-three ratio of Campari to orange juice, but some recipes call for a one-to-one ratio (yikes!). You be the judge.
Shandy – Beer Cocktail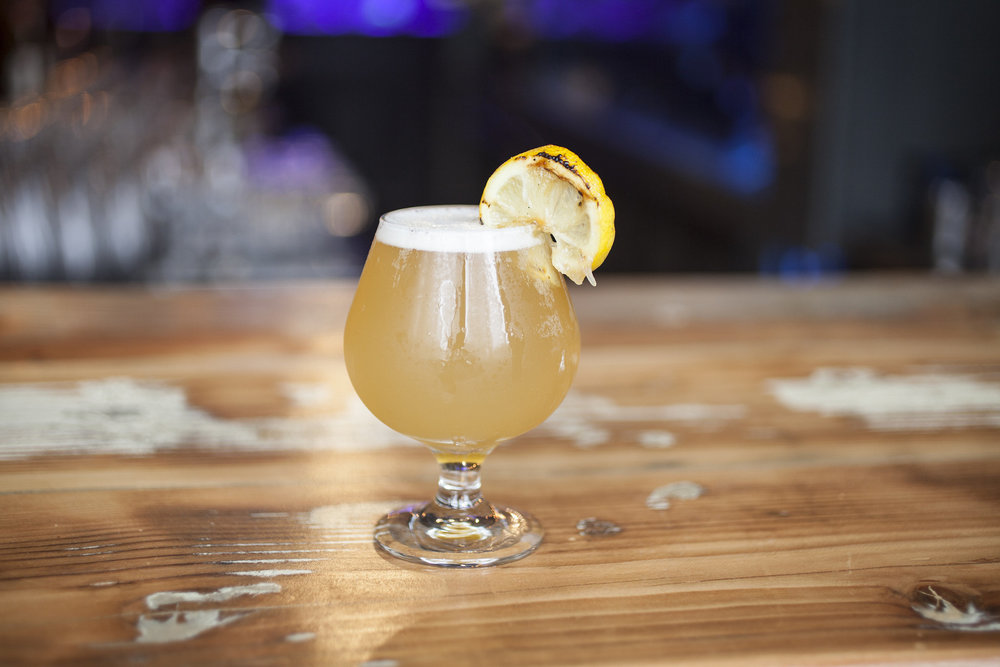 Shandy – Photo: Oregon Live
4 oz beer (we like a nice light beer, like a white ale, pilsner or lager)

4 oz lemonade
Don't forget the beer! A Shandy is a really refreshing beer cocktail made with lemonade! Ok, if you make the lemonade from scratch, technically that's four ingredients (beer, lemon juice, sugar, and water) but c'mon— this is so easy!
Note: the Lemonade in this recipe is not a soda like Sprite or 7up, but rather a lemon juice drink that can easily be made with fresh lemon, water, and sugar. In this Shandy recipe, beer provides the bubbles, not soda.
---
Looking for more? There are literally ENDLESS possibilities when it comes to making cocktails. However, not all Google Recipe Searches are created equal. When you're browsing the web for more cocktail ideas, we recommend the following websites as good, reliable resources:
Home Bar Basics

Imbibe Magazine